Sony Pictures & Warner Bros Preview 2016/2017 Line-Up [CinemaCon 2016 Video Blog]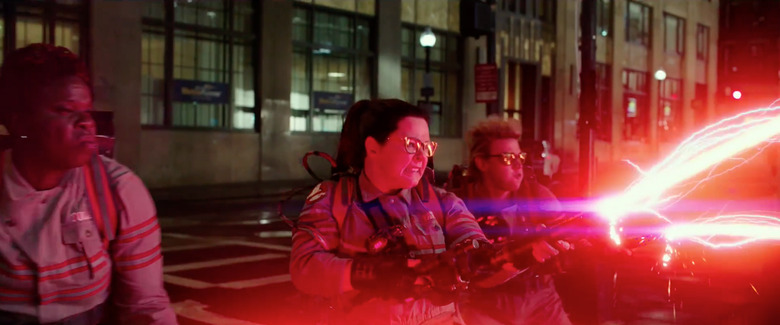 Yesterday was the second day of CinemaCon 2016 in Las Vegas. As you know, each year movie theater exhibitors gather to, among other things, watch presentations from all of the major movie studios previewing their film slates for the upcoming year and beyond. Sony Pictures presented a ton of new footage for upcoming films, including:
Ang Lee's Billy Lynn's Long Halftime Walk, Passengers starring Jennifer Lawrence and Chris Pratt, Edgar Wright's Baby Driver, the animated Spider-Man movie, Blake Lively's contained thriller The Shallows, Ron Howard's DaVinci Code sequel Inferno starring Tom Hanks, Paul Feig's Ghostbusters, the R-rated Seth Rogen animated film Sausage Party, and antoine Fuqua's remake of The Magnificent Seven.
Warner Bros also presented a preview of their upcoming films, including:
Justice League, Wonder Woman, Suicide Squad, Shane Black's buddy cop period comedy The Nice Guys, James Wan's The Conjuring 2, Lights Out starring Teresa Palmer, Dawson Thurber's comedy Central Intelligence starring The Rock and Kevin Hart, The Legend of Tarzan, the Todd Phillips comedy War Dogs, The LEGO Batman movie and the Harry Potter spin-off Fantastic Beasts and Where to Find Them.
Hit the jump to watch both video blogs talking about all the clips shown at the presentation.
I recorded the following video blogs with Steve from Collider after the presentation, which was at the end of a long long day. Enjoy.
Sony Presentation Reaction
We apologize in advance, the following video blog has slightly muffled audio.
Warner Bros Presentation Reaction
We will have a lot more coverage from CinemaCon throughout the week, so stay tuned.