'Doctor Strange' Trailer: Benedict Cumberbatch Is Marvel's Newest Superhero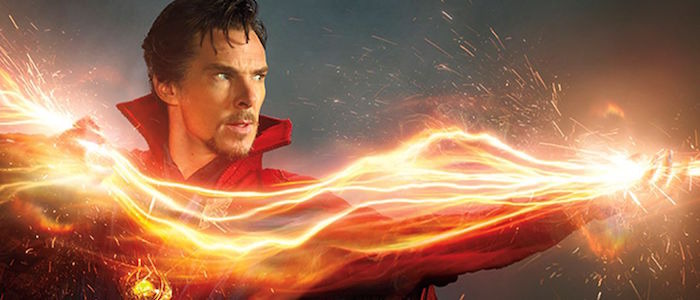 Over half a century after he was first introduced in the pages of Strange Tales #110, Doctor Strange is finally conjuring up his first live-action big-screen feature this fall. Benedict Cumberbatch stars as the surgeon-turned-sorcerer, while director Scott Derrickson works his magic behind the camera. And although Doctor Strange will be the 14th film in the overarching Marvel Cinematic Universe, it'll be the first to dive deep into the psychedelic, mystical outer reaches of that universe.
Which is a roundabout way of saying it's been tough to guess exactly what Doctor Strange might look like — but now we no longer have to. Marvel Studios dropped the very first Doctor Strange trailer on Jimmy Kimmel Live! tonight, and you can feast your eyes on it after the jump.
There's something wonderful about the notion that the Marvel Cinematic Universe is vast enough to include the earnest heroism of the Captain America movies, the glossy fantasy of the Thor films, the cheeky irreverence of the Iron Man movies, the goofy outer-space antics of Guardians of the Galaxy, and the low-key comedy of Ant-Man – and now, also the colorful mysticism of Doctor Strange. This is how a franchise stays fresh (well, relatively speaking, anyway) after nearly a decade and over a dozen films.
Doctor Strange arrives November 4. Also starring are Chiwetel Ejiofor as Mordo, Tilda Swinton as the Ancient One, Michael Stuhlbarg, Benedict Wong, Rachel McAdams, Scott Adkins, Amy Landecker, and Mads Mikkelsen.
"Doctor Strange" follows the story of neurosurgeon Doctor Stephen Strange who, after a horrific car accident, discovers the hidden world of magic and alternate dimensions.
"Doctor Strange" is the latest film in Phase 3 of the Marvel Cinematic Universe. Phase 3's goal—over the course of four years and nine films—is to introduce audiences to new heroes and continue the adventures of fan favorites.
"You wonder what I see in your future? Possibility." #DoctorStrange pic.twitter.com/5Zkbb2dAI7

— Marvel Entertainment (@Marvel) April 13, 2016