The Next Scooby-Doo Movie Will Launch A Hanna-Barbera Cinematic Universe [CinemaCon 2016]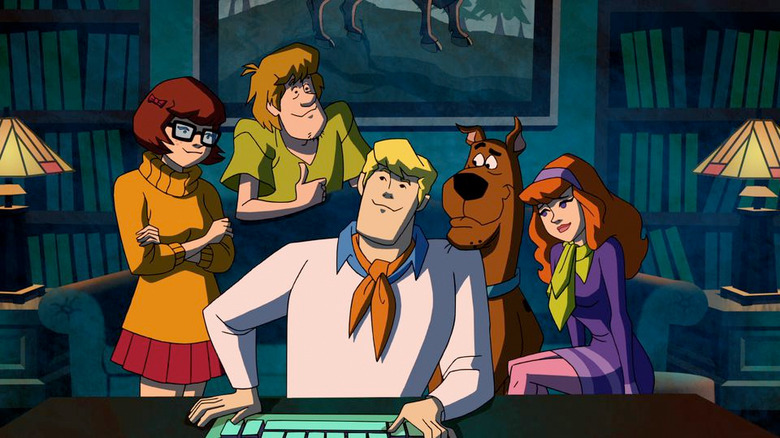 While we've known for some time that Warner Bros. had a Scooby-Doo reboot planned for 2018, we learned much more about the project at CinemaCon 2016. One big revelation is that the movie will be titled S.C.O.O.B., and that it'll launch a whole new wave of potentially interlocking Hanna-Barbera movies. Yes, that's right — Warner Bros. is planning a Hanna-Barbera Cinematic Universe. 
How this will work was not explained, as we were only shown a brief glimpse of concept art featuring Scooby-Doo and some sketches of other Hanna-Barbera characters. The exact quote used in a much longer over-arching WAG sizzle reel was that the film will be "our first shot at unlocking the whole Hanna-Barbera Universe."
Other Hanna-Barbera properties include The Flintstones, Yogi Bear, The Jetsons, The Smurfs, Top Cat, Jonny Quest, Wacky Races, Sealab 2020, and many other cartoons, although some of those, like the Smurfs, are owned elsewhere and obviously couldn't be part of this cinematic universe. There's also the question of if and how they might cross over, considering they all take place in different settings and time periods. Aside from S.C.O.O.B., the studio has not announced release dates for any of other Hanna-Barbera movies.
WAG is led by a brain trust that includes Phil Lord, Chris Miller, Nicholas Stoller, Glenn Ficarra, John Requa, and Jared Stern. Although the only completed film to come out of WAG so far is 2014's The Lego Movie, they have many more planned in the coming years including Storks (out this fall), The Lego Batman Movie (2017), a Ninjago movie (also 2017) The Lego Movie 2 (2018), and Smallfoot (about a Yeti that believes humans are real).
Warner Bros. has been aggressively expanding its biggest franchises including the DC Extended Universe (which just released Batman v Superman and has many more films scheduled through 2020) and the Harry Potter universe (which will be revived this fall with Fantastic Beasts and Where to Find Them).
S.C.O.O.B. arrives September 21, 2018.