'A Monster Calls' Teaser Trailer: "Whoa Indeed"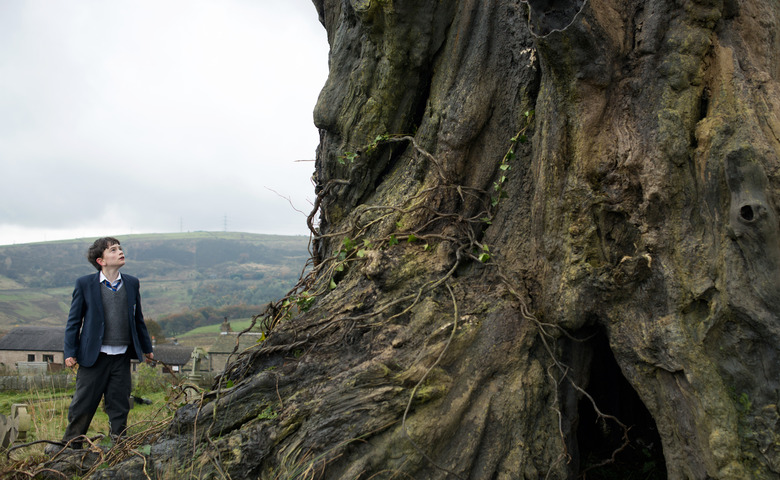 There are no shortage of monsters on the big screen this year, whether they be mutants or ghosts or dragons or other mythical creatures. But not all monsters are out to terrorize people. Some of them appear because they've been summoned by sad little boys desperately in need. In Juan Antonio Bayona's A Monster Calls, Conor O'Malley (Lewis MacDougall) struggles with bullies at school and his mother's illness at home. At night he's visited by a monster in the form of a towering tree (Liam Neeson).
Although A Monster Calls has elements of fantasy and adventure, the real core of the story is Conor's attempts to cope with the kind of outsized emotions that even adults are ill-equipped to handle: love, loss, and grief. In other words, this beast of a tale looks more likely to break your heart than to make you scream. Watch the latest A Monster Calls teaser trailer below.
The first A Monster Calls teaser trailer benefited greatly from the Cloud Atlas theme, a haunting piece of music that adds emotion and weight everywhere it goes. But the second A Monster Calls teaser trailer ditches that score and does just fine without it. It promises a dazzling contemporary fantasy, full of fear and wonder and joy and tragedy. The drab and depressing reality of Conor's life is broken up by awe-inspiring appearances from his tree-monster friend, and bursts of spectacular color that suggest another world altogether.
A Monster Calls opens October 14 in the U.S. and October 21 in the U.K.
A visually spectacular drama from acclaimed director Juan Antonio Bayona ("The Impossible"), based on the award-winning children's fantasy novel. 12-year-old Conor (Lewis MacDougall) attempts to deal with his mother's (Felicity Jones) illness and the bullying of his classmates by escaping into a fantastical world of monsters and fairy tales that explore courage, loss, and faith. Also featuring Liam Neeson who will star in performance-capture and voiceover as the nocturnally visiting monster of the title, and Sigourney Weaver as the maternal grandmother.