'Preacher' Sneak Peek Offers A Little Taste Of The Violence To Come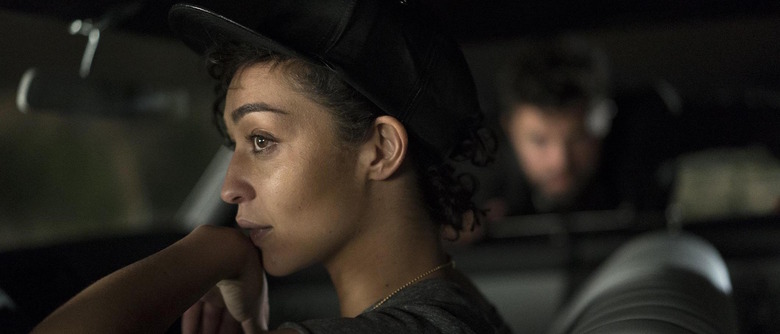 AMC's Preacher earned some great buzz at this year's SXSW, but those of us who weren't lucky enough to attend the world premiere of that pilot still have weeks to go before we find out how exactly Seth Rogen, Evan Goldberg, and Sam Catlin's vision of Garth Ennis and Steve Dillon's beloved comic series turned out. Thankfully, AMC knows we're hungry and has decided to throw us a bone.
A Preacher sneak peek offers a better look at Ruth Negga's Tulip, and more specifically at what a badass she is. She may not have the supernatural gifts of her ex-boyfriend Jesse Custer (Dominic Cooper) or the bloodsucking proclivities of her their pal Cassidy (Joseph Gilgun), but she's got a fighting spirit that's all her own. Check out the clip below. 
Tulip makes quite the first impression. #PREACHER is coming Sunday, May 22.https://t.co/O5KpPRfk3l

— PREACHER (@PreacherAMC) April 11, 2016
Ennis and Dillon's Preacher comics are famous (or infamous, depending on your perspective) for their unapologetic brutality. They're full of violence and sexuality and salty, un-P.C. language, and they're not afraid to get really, really weird with the supernatural stuff. The Preacher sneak peek offers a little taste of that dark vibe. Tulip's scuffle with this goon is ugly and intense, but also really well shot and well choreographed — you can actually see what's going on, which is more than we can say for many fight scenes in many shows. Preacher comics fans worried that the show will smooth over the source material's rough and dirty edges can probably relax a bit.
What the Preacher sneak peek doesn't give us is any sense of what the plot actually is. Fortunately, we've got an official synopsis for that:
"Preacher" is a supernatural, twisted and darkly comedic drama that follows a West Texas preacher named Jesse Custer, who is inhabited by a mysterious entity that causes him to develop a highly unusual power. Jesse, his badass ex-girlfriend Tulip and an Irish vagabond named Cassidy come together and when they do, they are thrust into a crazy world populated by a cast of characters from Heaven, Hell and everywhere in between.
Preacher premieres Sunday, May 22 at 10 PM ET/PT, following the midseason finale of Fear the Walking Dead season 2. The show then moves to its regular timeslot with its second episode, which airs Sunday, June 5 at 9 PM ET/PT. The first season will consist of 10 episodes in all.