What Kevin Feige And Sony Wanted To Establish About The New Spider-Man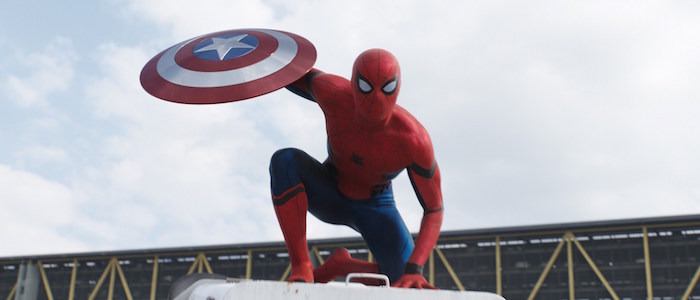 Last summer, it was announced Tom Holland had secured the role of Spider-Man. At the time, we already knew the character would appear in Captain America: Civil War, a role that was highlighted in the last trailer for the film. While it would've been more fun to experience the character on the big screen for the first time, it was an understandable decision on Marvel and Disney's part to promote Spidey's involvement.
Fans of Spider-Man will most likely be pleased with his role in Civil War, which shows the character at his youngest and nerdiest. Below, Marvel's Kevin Feige discusses the new Spider-Man, the experience of casting Tom Holland, and collaborating with Sony.
The director of the upcoming Spider-Man reboot, Jon Watts (Cop Car), said the new take on the character was inspired by Brian Michael Bendis' "Ultimate Spider-Man." Watts, Sony, and Marvel wanted this version of the webslinger to be an actual kid, which is why didn't cast a 25-year-old as a high schooler.
Speaking with Kevin Feige at the Captain America: Civil War junket, he told us why it was important to show Spider-Man as a kid:
We wanted to show a much younger Spidey, in contrast to our other heroes, a Spidey who — as was he was in the early '60s, when he was first created in the Marvel bullpen — was totally different from the Marvel heroes. The other heroes don't have to worry about homework. They don't have to worry about being home at a certain time. That's what makes Spider-Man Spider-Man. We also wanted to let audiences know he's already Spider-Man; he's been Spider-Man for a little while when we meet him. There wasn't the expectation we'd tell an origin. I think everybody in the world already knows.
Watts confirmed his film, Spider-Man: Homecoming, won't retell Peter Parker's origin story. By this point, people get it. He's a kid that got bit by a spider. Audiences don't need another origin story or "untold" story.
Last summer, The Hollywood Reporter ran a piece breaking down the hunt for the new Spider-Man. The article made mention of the fact both Chris Evans and Robert Downey Jr. read with potential candidates for the role, an experience Feige recounted and elaborated on at the press conference for Captain America: Civil War.
I called Robert relatively early saying, 'I think there might be a chance we're going to get Spider-Man in this movie.' His reaction was just like a fanboy. He was unbelievably excited for what that could mean to this movie. Two weeks after that, we pulled it down to about five finalists. I asked him, 'If we bring them to Atlanta, do you mind reading with all five?' And he did. We pulled it down a little bit more. That's how Tom came to the top. Then Tom and one other person came back and did more of a stunt test. Chris was very gracious to read opposite of him. It was fun to see Robert was invested, and to see Tom react to Robert, which was not dissimilar to how Peter was reacting to Tony.
Because of scheduling, they can't always have Marvel's heavy hitters read with auditioning actors. Since this was for Spider-Man, though, as Feige said, it was a unique case. Considering Holland is going to have to interact with other Marvel characters in the future, it only made sense to have established Marvel actors read with him.
Of course, not all credit goes to Marvel for this new Spider-Man. Their partnership with Sony led to this refreshing, more faithful portrayal of the character. Last year, it was a surprising turn of events when the two came together to revitalize Spider-Man, but it was a wise move on both parties' part.
Feige credited Disney and Sony for a smooth collaboration so far:
You're dealing with two very powerful studios that have their own interest. It's a testament to Amy Pascal, who's producing the film with us, and Tom Rothman, who runs Sony, and to all the people that run Disney. They realized the best thing for the character was to do this. It was great. The standalone Spider-Man is Sony Pictures' film, but they've engaged us in producing it. So far, so good.
As for next summer's Spider-Man: Homecoming, the project recently cast actress and singer Zendaya as Michelle, a character whose purpose in the film is currently unknown. Zendaya will star opposite Holland and Marisa Tomei in the Spider-Man reboot. Expect to hear more casting news soon for Jon Watts' film.
Spider-Man: Homecoming opens in theaters July 7th, 2017.