Netflix And Marvel's 'The Defenders' Will Shoot Later This Year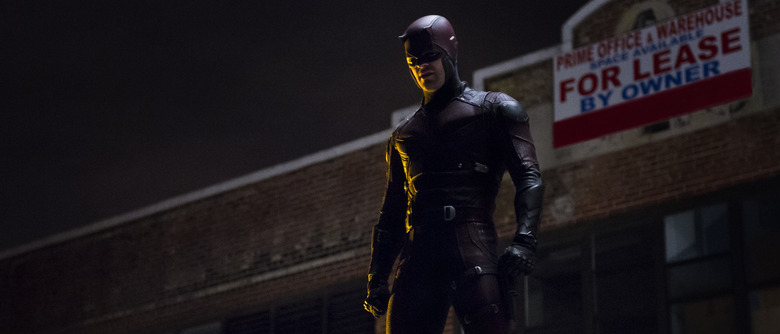 Way back in 2013, Marvel announced a deal with Netflix to launch four new series, culminating in an event miniseries that'd bring all four new heroes together. So far, that plan has gone swimmingly: Daredevil and Jessica Jones have both premiered to rave reviews, and Luke Cage and Iron Fist are already well underway. And now it seems we can expect the fifth and final piece of that puzzle to take shape in the not-too-distant future. According to Charlie Cox, who plays Daredevil, The Defenders will be shooting later this year. 
Cox spilled the beans to The Independent:
What we do know is at the end of this year we're going to be making The Defenders and, of course, Daredevil is very much a part of that foursome. I have no idea what the storyline is going to be for that show. I'm very excited to see how those world's combine... and interested to see tonally how those shows become one.
The actor claimed not to know whether Daredevil would get a third season, or even whether the show's storylines would continue in The Defenders. "In terms of wrapping up any storylines, maybe they'll do some of that in The Defenders. Or maybe they won't," he said.
Besides Cox, The Defenders is expected to star Krysten Ritter as Jessica Jones, Mike Colter as Luke Cage, and Finn Jones as Iron Fist. Daredevil's second season premiered last month and Luke Cage is slated to debut September 30. Iron Fist is expected to begin filming sometime this year, but hasn't yet announced a release date. And we're still waiting on the second season of Jessica Jones. Assuming Cox is right about The Defenders shoot getting underway this year, we can probably expect the show to premiere sometime in 2017, after Iron Fist hits Netflix.
No other details have been revealed about The Defenders. We don't know who'll serve as showrunner, what the plot will be, or which other characters will appear. It's not too difficult to imagine Daredevil and Jessica Jones fitting into the same show — both share a dark, gritty sensibility — but it should be interesting to see how a more mystical character like Iron Fist will fit in.