Ryan Coogler Is Co-Writing 'Black Panther,' Which Might Not Be Another Origin Story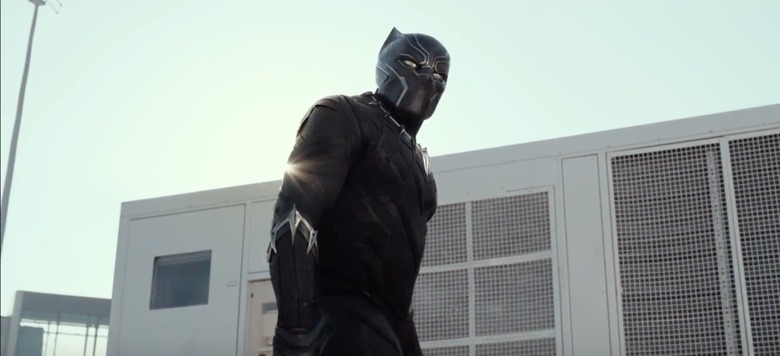 While a lot of the early reactions to Captain America: Civil War praised the new depiction of Spider-Man, that doesn't mean Black Panther (Chadwick Boseman) isn't every bit as entertaining as the web slinger. Marvel should have no problem getting unfamiliar audiences invested in this character.
Below, Marvel studio president Kevin Feige tells us a bit about the upcoming Black Panther standalone film, which is being helmed by Ryan Coogler, and explains why it doesn't necessarily have to be the Black Panther origin story.
Screenwriters Christopher Markus and Stephen McFeely provide just enough backstory on T'Challa is to give the audience a sense of who he is and what he stands for. The Russo brothers' film establishes plenty about the hero, so we had to ask: is a full-on origin story even necessary?
While interviewing Kevin Feige, although he didn't explicitly confirm whether Coogler's film is an origin story, he didn't make it sound like one either:
We can [move forward from here]. We can deal with the aftereffects of Captain America: Civil War and going back to Wakanda, and he's dealing with a geopolitical landscape that's completely different now. That'll certainly set him off in his own movie.
Black Panther faces a real conflict in Captain America: Civil War. That personal struggle — which should go unspoiled — could play a role in Black Panther:
When you're dealing with that level of leadership, you're constantly faced with these serious choices. Laying the groundwork for that morality over the course of this movie was important.
That quote will make more sense once you've seen the film. At the moment, Black Panther is in very good hands. Back in January, it was officially announced Ryan Coogler was going to direct the Marvel project. Feige, once Creed was mentioned, lit up and commented on that ongoing collaboration:
Best movie of last year. Great. I think he'll bring all of that [to the film]. He's already been involved for a number of months now. We've been working with him on the story. He watched early cuts of this film, and he gave very good feedback about Black Panther. I just think he's one of the best filmmakers today. Creed, I think, was my favorite movie last year.
Coogler will start shooting the comic book movie early next year. According to Collider, the director is also co-writing the script at the moment. So much groundwork has been covered that the Creed director could just pick up the ball and start running with his film, and not show another origin story – although that wouldn't be a bad option, either.
Black Panther opens in theaters February 16th, 2018.