'Valerian And The City Of A Thousand Planets' First Look: Dane DeHaan And Cara Delevingne Go On Luc Besson's Space Adventure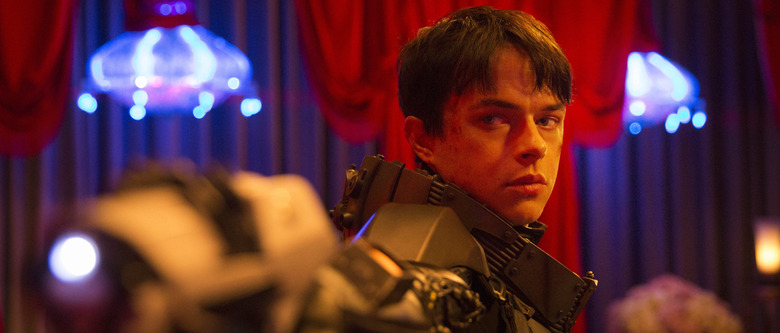 Luc Besson's Valerian and the City of a Thousand Planets has been high on our must-see list since it was first announced, and it's only gotten more intriguing with every casting announcement and promotional photo. Now, as if we weren't excited enough already, we finally have a look at Valerian (Dane DeHaan) and Laureline (Cara Delevingne) in action, thanks to a behind-the-scenes featurette that debuted with the MTV Movie Awards last night. Delevigne promises this is going to be "the best movie of all time," and who are we to doubt her? Get your Valerian and the City of a Thousand Planets first look below.
Get More:
2016 MTV Movie Awards, Latest Movie News, Josh Horowitz Gets The Inside Scoop On The Set Of 'Valerian' – 2016 MTV Movie Awards
And here's an official synopsis to go with that footage:
Rooted in the classic graphic novel series, Valerian and Laureline- visionary writer/director Luc Besson advances this iconic source material into a contemporary, unique and epic science fiction saga.
Valerian (Dane DeHaan) and Laureline (Cara Delevingne) are special operatives for the government of the human territories charged with maintaining order throughout the universe. Valerian has more in mind than a professional relationship with his partner- blatantly chasing after her with propositions of romance. But his extensive history with women, and her traditional values, drive Laureline to continuously rebuff him.
Under directive from their Commander (Clive Owen), Valerian and Laureline embark on a mission to the breathtaking intergalactic city of Alpha, an ever-expanding metropolis comprised of thousands of different species from all four corners of the universe. Alpha's seventeen million inhabitants have converged over time- uniting their talents, technology and resources for the betterment of all. Unfortunately, not everyone on Alpha shares in these same objectives; in fact, unseen forces are at work, placing our race in great danger.
Besson's output can be hit or miss, but Valerian looks to be in a similar vein as one of his best films, The Fifth Element. Indeed, it's based on a graphic novel series by Pierre Christin and Jean-Claude Mézieres, the latter of whom worked with Besson on the design of that movie. The Valerian featurette focuses mostly on the human (or at least human-looking) characters of Valerian — including a mysterious one played by Rihanna. But we can also look forward to a wide array of colorful non-human characters, such as the one played by John Goodman.
Valerian and the City of a Thousand Planets arrives July 21, 2017. Clive Owen and Ethan Hawke also star.