'Kong: Skull Island' First Look: Tom Hiddleston Goes Behind The Scenes Of Jordan Vogt-Roberts' Giant Adventure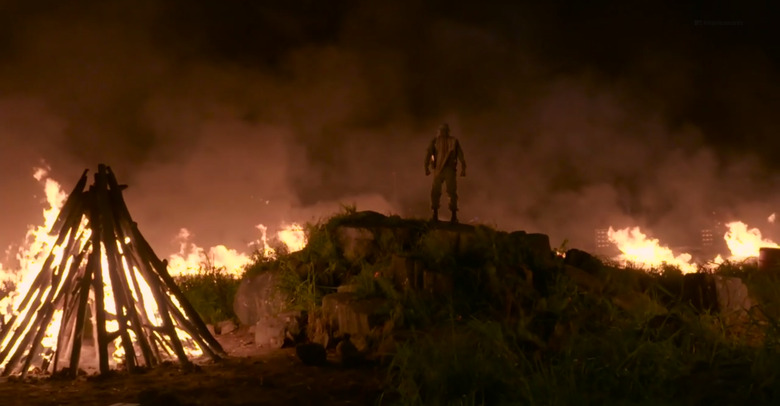 Like Skull Island itself, Kong: Skull Island has been shrouded in mystery since its origins. But unlike Skull Island, Kong: Skull Island is willingly opening up to let the world take a peek at the greatness within. In a new featurette, stars Tom Hiddleston, Brie Larson, Corey Hawkins, and Jason Mitchell go behind the scenes of director Jordan Vogt-Roberts' upcoming action-adventure, revealing new plot and character details and much, much more. Watch it below. 
Get More:
2016 MTV Movie Awards, Latest Movie News, A Sneak Peek From The Set Of 'Kong: Skull Island' – 2016 MTV Movie Awards
The featurette starts with the usual promises about how "Kong appears in this film as you've never seen him before." Alas, he doesn't give any details about how this King Kong differs from previous incarnations of the character, but perhaps we'll learn more between now and next year, when the film opens. As we've previously heard, Kong: Skull Island centers on a group of explorers who arrive at a remote island populated by "strange new creatures and mythic beasts," as Hiddleston describes them. And giant monsters may not be the only threat facing this team, as Hawkins suggests: "It's set in the Vietnam [War] era, so what does post-traumatic stress do to people?"
Hiddleston leads as Captain James Conrad, a former British SAS officer. "He understands nature and the ways of the jungle, which is a very useful skill set on Skull Island," teases the actor. Larson plays Weaver, a photojournalist and peace activist who "wants to work with the nature and these creatures, rather than fight against them." And Mitchell is a helicopter pilot named Glen Mill, who sounds like he'll provide much of the levity in this movie. "He's a really funny guy, and he has to build courage through the entire walk," says Mitchell. "It gets pretty intense."
Kong: Skull Island opens March 10. Also starring are Samuel L. Jackson, John Goodman, Thomas Mann, Shea Whigham, Eugene Cordero, Tian Jing, and more. Because everything exists in a shared universe now, Kong: Skull Island takes place in the same continuity as 2014's Godzilla. It'll be followed by Godzilla 2 in 2018 and then the two series will come together for Godzilla vs. King Kong in 2020.