Tracy Morgan Might Join Ed Helms And Amanda Seyfried In 'The Clapper'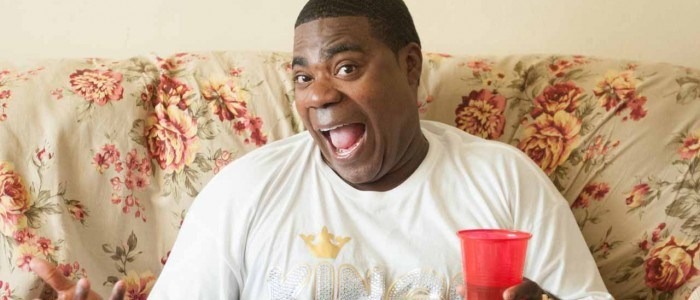 Tracy Morgan is currently in talks to reunite with Son of No One writer-director, Dito Montiel. Montiel is working on an adaptation of his own novel, Eddie Krumble Is the Clapper, a project that has already enlisted Ed Helms and Amanda Seyfried. Morgan, if the filmmakers can work around his schedule, might join The Clapper cast.
Learn more about the project below.
The more we see of Tracy Morgan, the better. After a year of physical rehab following an unfortunate multi-car crash, Morgan has been steadily getting back to work. He recently hosted Saturday Night Live, provided narration for The Night Before, and secured a supporting role in Lee Daniels' Richard Pryor biopic, in which Morgan will play Redd Foxx (Sanford and Son). The actor will also appear in the Ice Cube and Charlie Day comedy, Fistfight.
According to Deadline, Morgan will try to fit in Montiel's picture, which shoots around the same time as the comic's upcoming stand-up tour, Picking Up the Pieces. There's no word on the actor's potential role in the adaptation, which is about 15 minutes of fame ruining a professional clapper's (possibly Ed Helms) life.
Here's the synopsis for Montiel's book:
Meet Eddie Krumble. He's a relatively happy guy. Content-ish. Fresh to Los Angeles, Eddie and his friend Chris Plork land their first gig: clapping as paid audience members for infomercials and sitcoms so heinous that tourists won't even attend. Eddie spends long days clapping, laughing, and hissing — on cue, of course — and his life slowly begins to take shape as a relationship with Judy, a gas station attendant, begins to brew. Suddenly his life is turned on its head. In one of his nightly rants, Jay Leno scrutinizes the state of late night TV and ends up unveiling two stills of Eddie as audience members for two different infomercials. Eddie is singled out as clapper-for-hire, Eddie's career comes to a halt, and Leno turns his discovery into a segment on his show: "Who is THE CLAPPER?" takes the public by storm, and Eddie's face appears on TVs and billboards throughout the nation. A clever satire about fame, consumerism, and reality TV, Dito Montiel's Eddie Krumble is The Clapper is the first work of fiction from the acclaimed author of A Guide to Recognizing Your Saints.
This isn't the first time Montiel has adapted his own work for the screen. His directorial debut, A Guide to Recognizing Your Saints, was based on his novel. It's a memorable drama, with good performances from Shia LaBeouf and Channing Tatum. Montiel's followup work has been a little inconsistent, but this project, which Morgan will hopefully join, sounds like a significant departure from the films he's been making lately.