'Kingsman: The Golden Circle' Adds 'Game Of Thrones' Red Viper Pedro Pascal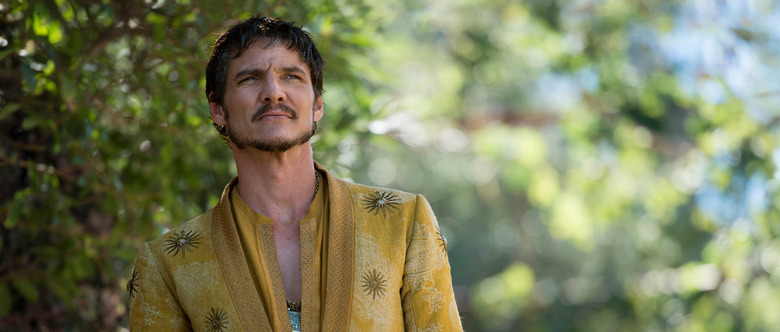 The downside of Game of Thrones' pull-no-punches unpredictability is that it's really easy to fall in love with a character, only to see them suddenly disappear from the show. But the upside of that is that it frees up Game of Thrones actors to pop up in other cool projects. Like Pedro Pascal, who once played fan favorite Oberyn Martell, and who is now set to co-star in Matthew Vaughn's Kingsman: The Golden Circle. 
Deadline reports Pascal has joined Kingsman: The Golden Circle as a character they believe to be called Jack Daniels. This is probably the same Jack we heard about last month — a leader of Statesman (a top-secret intelligence organization that's the American equivalent of Kingsman). He was described at the time as a "swaggering, sharpshooting cowboy," which should suit Pascal to a T.
Besides Jack, new characters on deck for Kingsman: The Golden Circle include Ginger, another Statesman leader to be played by Halle Berry (because "Jack & Ginger," get it?), and Poppy, a villain to be played by Julianne Moore. Returning characters include Taron Egerton as franchise lead Eggsy, Mark Strong as Merlin, and Edward Holcroft as Charlie. The marketing has also heavily implied that Colin Firth will reprise his role as Harry Hart, despite (spoiler alert!) getting killed off in the last movie. Vaughn and Jane Goldman once again wrote the script.
Kingsman: The Golden Circle has Eggsy and Merlin crossing the Atlantic to team up with their Stateside counterparts, after an attack in London demolishes the Kingsman headquarters. Whereas the British Kingsmen follow a sort of "Knights of the Round Table" theme, the American Statesmen are all about the booze — their headquarters is disguised as a whiskey distillery. While The Golden Circle won't have another scene like that insane church massacre from The Secret Service, Vaughn has teased other stuff we've "never seen before," including a scene of the heroes getting attacked by "a massive fucking frankfurter."
Pascal wasn't exactly a newbie when he signed on for Game of Thrones – among other things, he'd had recurring roles in The Good Wife, Lights Out, and Graceland – but his charismatic turn as the Red Viper opened him to a wider audience. He's since starred in the Netflix series Narcos and has wrapped Zhang Yimou's The Great Wall, due out in the U.S. next year. Regardless of how you felt about Kingsman: The Secret Service, The Golden Circle is looking more and more like a must-see, if for no other reason than to see this cast sink their teeth into some pulpy material.