The 'Rogue One: A Star Wars Story' Trailer Is Here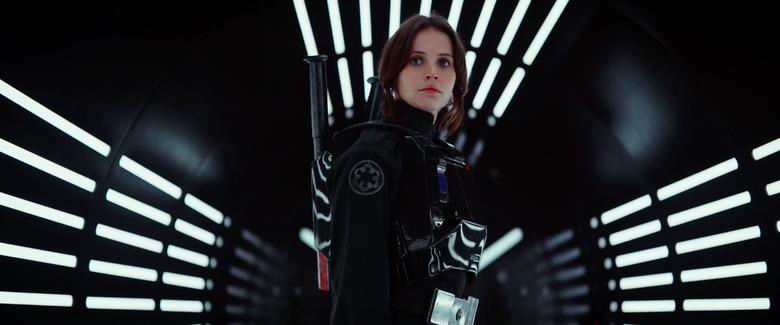 Star Wars: The Force Awakens opened up a whole new chapter of everyone's favorite sci-fi saga last year, but the next new Star Wars movie actually takes us back a few decades. Set shortly before the events of A New Hope, Rogue One: A Star Wars Story follows a group of resistance fighters who set out to steal the Death Star plans.
Although Rogue One began shooting last summer (before The Force Awakens even hit theaters), it's only now that we're finally getting the very first glimpse of footage from the new movie. Yes, the very first Rogue One: A Star Wars Story trailer is here, and you can check it out after the jump.
Rogue One A Star Wars Story Trailer
Up until now, the Star Wars films have told a linear story (albeit not always in a linear order), following the Skywalker family from Anakin's childhood in The Phantom Menace through Luke's self-imposed exile in The Force Awakens. Rogue One marks the very first standalone feature set within the Star Wars universe. Unlike the Saga films, Rogue One won't revolve around the Jedi or the Force. It'll also exist in a "gray" area, in contrast to the more black-and-white (or rather, light-and-dark) morality of the other films.
Rogue One promises to finally reveal the story Star Wars fans have wondered about since they first set eyes on the opening crawl of A New Hope:
Rebel spaceships, striking from a hidden base, have won their first victory against the evil Galactic Empire. During the battle, Rebel spies managed to steal secret plans to the Empire's ultimate weapon, the DEATH STAR, an armored space station with enough power to destroy an entire planet.
Gareth Edwards directed Rogue One, which features an impressive international ensemble cast including Felicity Jones, Mads Mikkelsen, Forest Whitaker, Diego Luna, Ben Mendelsohn, Donnie Yen, Alan Tudyk, Riz Ahmed, and Jonathan Aris.Rogue One: A Star Wars Story lands in theaters December 16.