Zack Snyder And Henry Cavill Address The Possibility Of A Solo Superman Movie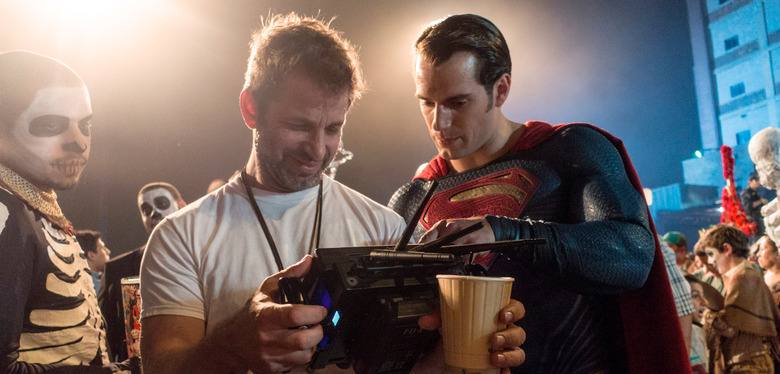 Ever since Batman v Superman: Dawn of Justice hit theaters, fans have been buzzing about the possibility of a standalone Batman movie starring Ben Affleck. And after Gal Gadot's truly epic debut as Wonder Woman, it's no wonder people seem hyped for her upcoming standalone movie. But what about the third member of the DC trinity? Will Henry Cavill's Superman ever get to fly solo again?
While there's no Man of Steel 2 on the Warner Bros. release schedule just yet, Cavill and director Zack Snyder aren't ruling one out. It's just that they need to find the right time. Or get the right script. Or they're waiting to see how things shake out with Batman v Superman. Or something.
Speaking to IGN, Snyder expressed his support for another Superman movie:
I think if we could get a good script it would be great to have a standalone Superman movie. I think that would be fun to do. [...] Part of the reason we haven't announced the standalone Superman movie this time was to support some of the events of this film [Batman v Superman].
Should another Superman movie take off in the next few years, it seems unlikely Snyder would direct — he's currently tied up with Justice League: Part One, and he's attached to direct Justice League: Part Two as well. But he could be involved as a producer, as he is on DC films like Suicide Squad and Wonder Woman.
Cavill, meanwhile, pointed out that Warner Bros. probably wants to see how things go with Batman v Superman first:
I do believe it depends upon the success of this movie. If this goes well then we can start to negotiate with Warner Bros. to develop a standalone Superman. But they've got their plan set out for other stuff and Justice Leagues and various other movies. It's about finding the time, really. It's something I'd be very keen to do.
Finally, producer Charles Roven acknowledged there have been discussions about the possibility of another Superman movie... but don't get your hopes up, because it doesn't sound like anything is confirmed:
We're in the process of looking at that. But we don't have it on the schedule at the moment because we're quite busy with the movies that we have scheduled.
It's true Warner Bros. already has a pretty packed schedule — but if the studio really wanted to make a solo Superman movie happen, it wouldn't be too difficult to shuffle some things around. We're fully expecting them to make room for a solo Batman movie, for example, even though the studio hasn't officially announced the project just yet.
Batman v Superman did record-breaking numbers in its opening weekend, and then had one of the steepest second-weekend drops in recent memory. And as much as fans loved Batman and Wonder Woman, it doesn't seem like too many people are talking about Cavill's Superman. Plus, his last solo outing, Man of Steel, got mixed reactions from fans. If Warner Bros. isn't exactly chomping at the bit for another Superman movie, well, that shouldn't be all that surprising.
Which is a shame, really. Cavill is quite good in the role, which is really saying something considering how hard Man of Steel and Batman v Superman work to tamp down his natural charisma. (To see what he's capable of when he's not being directed to look as stoic as possible, check out his playful performance in Man From U.N.C.L.E.) And there are plenty of Superman fans who'd like to see him get his due, and not just act as a supporting player in Justice League movies going forward.
What about you? Are you more disappointed or excited at the potential for another solo Superman movie?