Joel McHale Might Play Former Co-Worker Chevy Chase In 'A Futile And Stupid Gesture'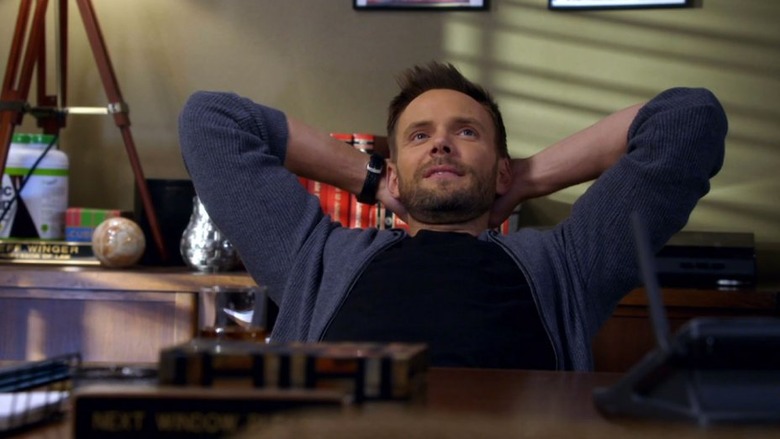 Talk about life coming full circle. Actor Joel McHale might play Chevy Chase in David Wain's (Wet Hot American Summer) National Lampoon biopic, A Futile and Stupid Gesture. McHale and Chase, of course, worked on Community together for a number seasons, so if McHale signs up for the project, then he's already got a few years of research in the can.
Learn more about A Futile and Stupid Gesture below.
Based on Josh Karp's novel, Wain's A Futile and Stupid Gesture begins shooting this month. The film will star Will Forte (The Last Man on Earth), playing Doug Kenney, the co-founder of National Lampoon that was found dead at the age of 33. To this day, nobody knows if it was an accident or suicide.
Chase and Kenney were very close friends. Chase, once he realized his friend was in need of help, took him on a vacation, which the actor himself admitted wasn't a great idea:
Someone suggested that maybe I could help clean Doug up. I was the last guy to ask! We went to Hawaii. The point was to dry out. But why would that happen? Look at us at that age and the time. I had to go back to California, and within a couple of days Doug's body was found at the bottom of a ravine.
In the documentary Drunk Stoned Brilliant Dead: The Story of the National Lampoon, Chase discusses his relationship with Kenney, and it clearly wasn't easy for him to do so. Some described the two as brothers. Considering the role they played in each other's lives, if McHale does play Chevy Chase, it'll likely be a significant role.
According to The Hollywood Reporter, the actor is currently in final negotiations for the Netflix project, so this isn't a done deal just yet. Joel McHale playing Chevy Chase sounds just right, though. Hiring an actor that's spent a significant amount of time with the man himself is certainly an inspired casting idea, and I'm certainly curious what Chase would make of this.
The Community stars didn't always get along. While Chase is notoriously difficult to work with, McHale would have his fun with the actor. The star of The Soup once left copies of Karate Dog, an overlooked gem that features Chase voicing a dog that knows karate, on the set and in Chase's trailer. There are plenty of other fun and not-so-fun stories about their time together on Community, experiences that would most likely inform McHale's performance in A Futile and Stupid Gesture.