Warner Bros. Reacts To 'Batman V Superman' Box Office Drop: "We're Not Concerned"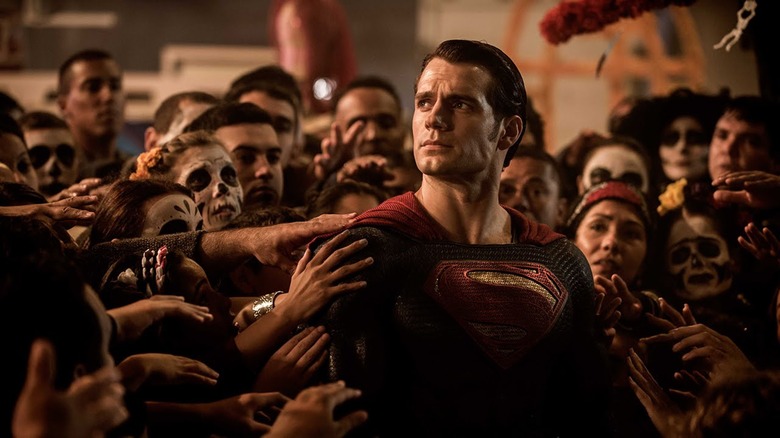 Batman v Superman: Dawn of Justice's box office performance has been making headlines, but not always for the reasons Warner Bros. would probably like. The film set a new domestic record for a March opening, raking in $166 million at home and another $254 million worldwide in its first weekend... and then dropped a precipitous 68% in its second weekend, despite facing no heavy competition.
Whether you're mourning or celebrating this turn of events probably depends on how you felt about the movie. But studio Warner Bros., for one, insists it's not worried, pointing out (not incorrectly) that Batman v Superman is still on track to make a hell of a lot of money. 
Speaking with The Hollywood Reporter, Warner Bros. domestic distribution chief Jeff Goldstein put a positive (well, positive-ish) spin on the Batman v Superman box office drop:
We're not concerned with the drop. No matter how you slice it, to get to $52 million on any given weekend is an enormous accomplishment. We're most focused on where we are in total. And our global number is huge.
Goldstein isn't wrong about the global number being huge. Coming out of its second weekend, Batman v Superman has racked up $682 million worldwide so far, or more than the lifetime global totals of Man of Steel ($668 million), Thor: The Dark World ($644 million), and Iron Man 2 ($623 million). It currently ranks 84th on the all-time list of the highest international grosses of all time, which is nothing to sneeze at. However, while early projections had Batman v Superman on track to cross the $1 billion mark, it's much less clear now whether it'll have the legs to hit that particular milestone.
It's not surprising that Goldsten would try to put on a brave face, especially considering how much the studio has riding on Batman v Superman. It was designed as the foundation on which to build the rest of the DC Extended Universe — sometimes to its detriment, as when the movie grinds to a screeching halt so that a character can watch some teasers for Aquaman, The Flash, and Cyborg. If the film had bombed, it would've been much more difficult for the studio to salvage the rest of its comic book slate. So the giant numbers should give them some relief, even if they're not quite as giant as the studio might have hoped.
Even so, it looks like Warner Bros. isn't taking any chances. Word is the studio's already commissioned some expensive reshoots to make Suicide Squad more fun. And there are rumors that the DC Extended Universe schedule may be shifted around to make room for a Batman solo movie sooner rather than later, after Ben Affleck's take on the Caped Crusader emerged as one of the few highlights of Batman v Superman that critics and fans could agree on. And in other good news, there's still Wonder Woman to look forward to — filming on that one is still underway, and anticipation is at an all-time high after Gal Gadot stole the show from Affleck and Henry Cavill in Batman v Superman.