'The Jungle Book' Early Buzz: Critics Go Wild For Disney's 3D Remake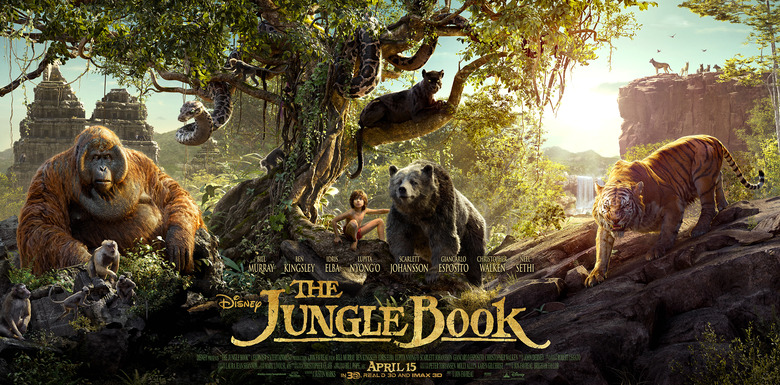 A little less than a year ago, the very first footage from The Jungle Book brought the house down at Disney's D23 expo, with critics raving about the "next level" animation. This past weekend, the first reviews from the full-length film finally hit theaters, and... well, it turns out critics still like it a whole heck of a lot.
Reviews range from fairly positive to really positive, but a general consensus has formed around a couple of elements: one, the 3D is some of the best we've seen since Avatar, and two, Idris Elba's Shere Khan makes for one terrifying villain. Find out what else the critics had to say in our Jungle Book reviews round-up below. 
First, a smattering of quick-hit reactions on Twitter...
Jungle Book is better than the Disney animated classic, a dark dangerous fun adventure. Every frame is like a painting, a huge achievement.

— /Film (@slashfilm) April 2, 2016
The Jungle Book is not only a great, beautiful movie, it's the first live action Disney remake that puts the original film to absolute shame

— Germain Lussier (@GermainLussier) April 2, 2016
THE JUNGLE BOOK is fantastic and absolutely should be seen in 3D and I rarely say that anymore. Extremely impressed with the VFX in the film

— Steven Weintraub (@colliderfrosty) April 3, 2016
The Jungle Book is great. So much fun. Surprisingly intense, though. It's kind of like The Revenant for kids. Even has the bear.

— Kevin Polowy (@djkevlar) April 3, 2016
(I liked Jungle Book, but it tries awkwardly to eschew the original's/book's less savory aspects, and sometimes fights a losing battle.)

— Emily St. James (@emilyvdw) April 2, 2016
... And now, let's get to some longer reviews.
This "Book" might lack the post-vaudeville razzamatazz of its predecessor, but director Jon Favreau and a team of effects wizards plunge us into one of the big screen's most engrossing artificial worlds since "Avatar." (Not to mention the most convincing conversational creatures since "Babe.") I don't know where the fakery stops and the real animals, waterfalls and veldts begin in this movie, and I don't really want to.
Within five minutes, I had already mouthed a few "holy shit"s at the 3D I was seeing. It's so beautiful! It stinks how 3D has been misused since its 2009 resurgence with Avatar. It's become something we all try to avoid if the non-3D showing fit in our schedule. The Jungle Book is one of those handful of movies that belongs in 3D. The 3D legitimately enhances the experience. I don't like 3D as an industry tool to milk money out of us poor schlubs just so we can watch a slightly darker screen, but if you see The Jungle Book, you should see it in 3D. This is one of those movies they should never release on Blu-ray and just re-release it every few years in 3D.
The Telegraph's Robbie Collin:
The voice-casting of his animal companions is shrewd to the point of unnerving. Elba's Shere Khan rings with magnificence. Lupita Nyong'o brings a gentle dignity to the role of Raksha, the mother wolf. Scarlett Johansson plays the bewitching python Kaa with a lounge-singer's purr, while Bill Murray's Baloo is so blissfully mellow, whenever he speaks, you'd almost swear you can hear ice cubes clinking in a glass of single malt.
But aside from investing in top-drawer digital craftsmanship, perhaps the canniest move Disney made on this film was hiring Jon Favreau to helm it. Maintaining the buoyant heartbeat beneath all the digital flash, Favreau never loses sight of the fact that he's making an adventure story for children — no small matter in a kid-pic landscape flooded with inappropriately gritty reboots and frenetic distraction devices — and when positive word of mouth arrives to buttress Disney's all-out marketing efforts, the studio should have a substantial hit on its hands.
Transporting Rudyard Kipling's beloved The Jungle Book, its dense wilderness surroundings and anthropomorphised animals into the live-action realm seems a difficult task; however with Jon Favreau in the director's chair, a high-profile cast lending their voices to the tale's iconic talking creatures, and — most importantly — the latest in special effects wizardry turning the movie into a photorealistic spectacle, Disney makes it look easy. Nearly half a century ago, the studio turned the author's collection of stories into an animated hit. Given the visual wonder of its second adaptation, as well as the corresponding emotional resonance, it should easily be able to repeat the feat.
As an event film that thrives on creating a sense of wonder rather than rich story, "The Jungle Book" is more than an incremental step forward in the digital effects arms race, with spectacular end-game images establishing a new high bar for digital reproduction of real-world animals and environments. The strikingly realistic scenery is dappled with color, light and shadow to create dramatic stages for masterful character animations— if only the story played out on this impeccably-realized fantasy had the same persuasive command.
The Hollywood Reporter's Todd McCarthy:
But even as the drama and its treatment become increasingly conventional and familiar as the film moves toward its patly (and arguably overly) audience-pleasing wrap-up, the exceptional visual quality and lifelike animal renditions remain stunning throughout. [...] After having completely succeeded in transporting you to its primeval jungle setting, the pic concludes, at the very end of the lengthy final credits, with the cheeky note, "Filmed in Downtown Los Angeles." At least one sort of movie magic is still very much at work here.
***
The Jungle Book is in theaters April 15.