The Latest 'Preacher' Teaser Trailer Promises Plenty Of Blood And Mayhem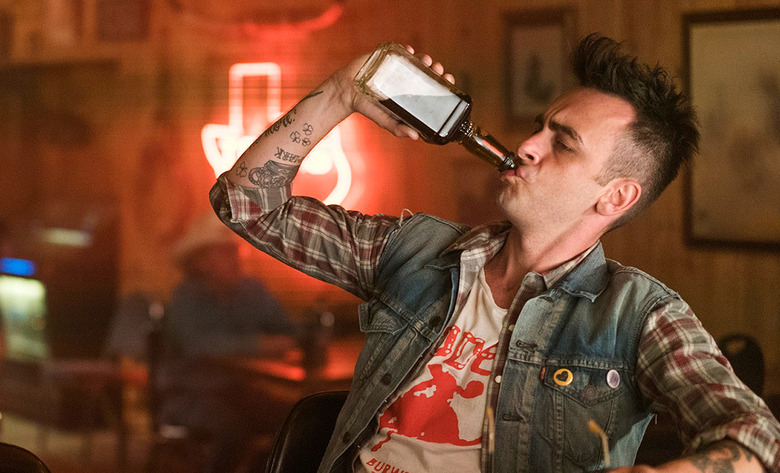 We're less than two months away from the premiere of AMC's adaptation of Garth Ennis and illustrator Steve Dillons' Preacher. After a series of failed potential film adaptations, Seth Rogen, Evan Goldberg, and Sam Catlin (Breaking Bad) finally made this comic book adaptation a reality.
Before we finally get a chance to see Ennis' characters brought to life, AMC has released another brief look at the series. Check out the latest Preacher teaser trailer below.
In case you're unfamiliar with the comic, the story follows a West Texas preacher, Jesse Custer (Dominic Cooper), who's possessed by the spawn of an angel and a demon. While on his mission to confront God, Jesse is joined by his ex-girlfriend, Tulip (Ruth Negga), and an Irish vampire, Cassidy (Joseph Gilgun). Of course, there's far more to the story than that, but that's the basic gist of it.
So far a decent amount of footage and images have been released, including last week's somewhat divisive first look at "Arseface" (Ian Colletti). Most of we've seen has been promising, including this latest teaser, which teases the show's mood and high production value (that shot of the cornfield is gorgeous):
While the tone of the trailers have been slightly more ominous than the source material, considering Rogen and Goldberg are involved, we shouldn't expect the series to be completely stripped of Ennis' often dark, twisted sense of humor. Anyone that's worried AMC is going to soften Preacher's edges shouldn't be too concerned. The pilot for Preacher recently premiered at South by Southwest, and most of the reviews, especially the ones written by fans of the comics, praised the pilot for being a faithful but distinct take on the story.
Here's the official synopsis for Preacher:
"Preacher" is a supernatural, twisted and darkly comedic drama that follows a West Texas preacher named Jesse Custer, who is inhabited by a mysterious entity that causes him to develop a highly unusual power. Jesse, his badass ex-girlfriend Tulip and an Irish vagabond named Cassidy come together and when they do, they are thrust into a crazy world populated by a cast of characters from Heaven, Hell and everywhere in between. The series stars Dominic Cooper as Jesse Custer, Joseph Gilgun as Cassidy, Ruth Negga as Tulip, Lucy Griffiths as Emily, W. Earl Brown as Sherriff Root, Anatol Yusef as DeBlanc, Tom Brooke as Fiore, Derek Wilson as Donnie Schenck and Ian Colletti as Eugene/Arseface.
Preacher premieres on Sunday, May 22nd at 10:00 p.m. ET/PT.