J.J. Abrams Is Producing An Adaptation Of Greg Grunberg's "Dream Jumper"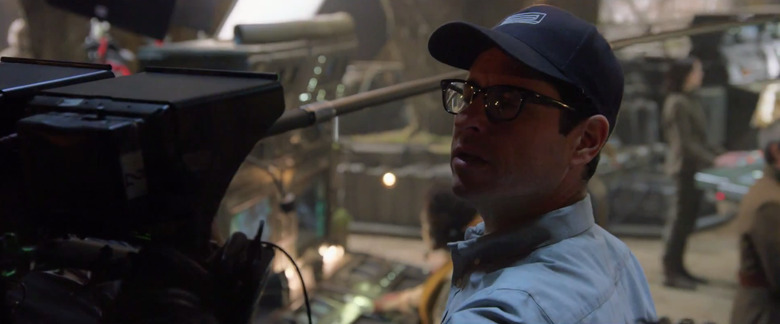 We may receive a commission on purchases made from links.
Actor Greg Grunberg and director J.J. Abrams go a long way back. Throughout their careers, the two childhood friends have consistently worked together. Grunberg had roles in Felicity, Alias, Mission: Impossible III, and most recently, Star Wars: The Force Awakens. With their next collaboration, Grunberg is no longer an actor-for-hire. J.J. Abrams is producing a film adaptation of the actor's first graphic novel, Dream Jumper.
Learn more about the Dream Jumper adaptation below.
The Hollywood Reporter says Paramount has purchased the rights to the two-part children's story. Abrams' Bad Robot will produce the adaptation of "Nightmare Escape (Dream Jumper, Book 1)," which Grunberg co-wrote with its illustrator, Lucas Turnbloom.
The actor developed the idea for the story after his son, Ben, told him about a series of dreams he was having, in which a kid had the ability to jump in and out of his friends' nightmares. Grunberg named the story's protagonist — who fights off monsters and minions and all sorts of bad guys — after his son.
Here's the synopsis for part one of Dream Jumper:
Ben has a problem. When he sleeps he dreams, and when he dreams, they're all nightmares! But he can also jump into other people's dreams. So when his friends start falling victim to an evil dream-monster that prevents them from waking, Ben knows he has to help them. Easier said than done when dreams can shift and the monster knows his way around the ever-changing landscape of the mind! With help from a talking rabbit-companion who has a mysterious past, Ben might just be able to defeat the monster and save his friends . . . if he can figure out how to use the power within him against his enemies.
We're unsure whether Dream Jumper will be an animated or live-action movie. The Hollywood Reporter initially claims it's an animated feature, but later adds "it is unclear if the project will be live-action or animated." Whether animated or not, the potential for a fun adventure movie, based on that synopsis, is obvious. A kid battling monsters in the "ever-changing landscape of the mind" sounds like a movie a kid would actually want to see, and adults might like it as well.
Abrams wrote the foreword for the book, which was first announced at last year's Comic Con. The Star Wars: The Force Awakens director will produce the feature film with Bad Robot's Lindsey Weber. No writer is currently attached to the project.
Part one of "Dream Jumper" is available for purchase on June 28th.