'Sharknado 4' Gets A Groanworthy 'Star Wars'-Inspired Title And A Premiere Date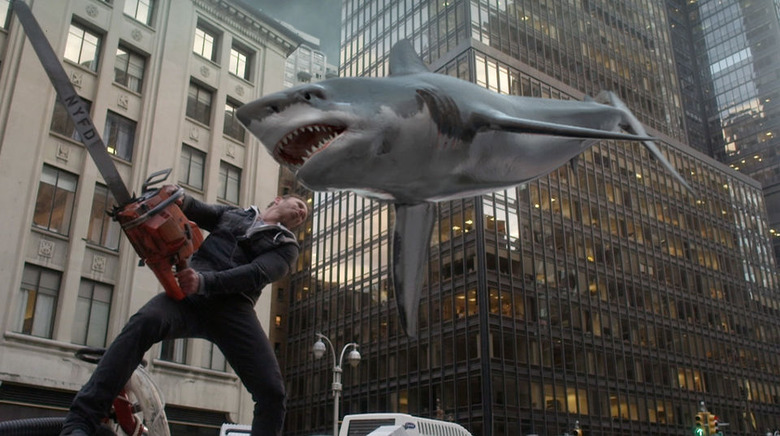 This is not an April Fool's joke, and yet it seems appropriate that this news is breaking on April Fool's Day. Because really, the entire Sharknado franchise, from the premise to the taglines to the casting, feels like nothing so much as an April Fool's joke that somebody decided to take way too far. Anyway, Syfy has finally gotten around to setting a release date for Sharknado 4, and given it a brilliantly terrible Star Wars-inspired title to boot. 
TVLine reports the next chapter in the Sharknado saga will premiere on Syfy on Sunday, July 31 at 8 PM. But the really great part is what the film will be called: Sharknado: The 4th Awakens. It's a cheap, superficial, gleefully stupid Star Wars pun, and "cheap, superficial, gleefully stupid" is what Sharknado is all about, so in that sense it's a perfect title. It's a far better title than the lazy Sharknado 3: Oh Hell No!, though my favorite is still the perfectly, obnoxiously redundant Sharknado 2: The Second One.
The two-hour original movie Sharknado: The 4th Awakens picks up after the events of Sharknado 3: Oh Hell No!, in which shark-infested tornadoes destroyed the East Coast (or the "Feast Coast," in Sharknado parlance). Fin (Ian Ziering) and his family have enjoyed five wonderful years without a single sharknado on the horizon, but all of a sudden these freakish and improbable weather events begin springing up in unexpected places.
Tara Reid returns as April, though whether she'll survive to see another Sharknado after this one is up to you — Syfy has invited fans to vote whether #AprilLives or #AprilDies. Also on board are Gary Busey as April's dad (because of course), Cheryl Tiegs as Fin's mom, David Hasselhoff, Ryan Newman, Tommy Davidson, Imani Hakim, Cody Linley, and Masiela Lusha. Anthony C. Ferrante, who's directed all of the Sharknado movies so far, returns to direct The 4th Awakens from a script by Thunder Levin.