'Batman V Superman': Zack Snyder Explains How Robin Fits Into Batman's Backstory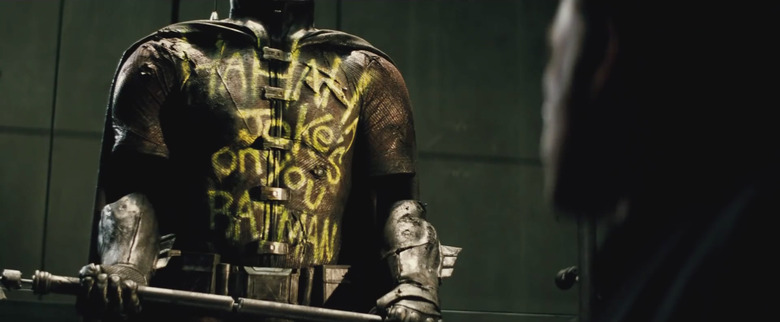 Ben Affleck proved to be an excellent Bruce Wayne. Even some of Batman v Superman: Dawn of Justice's harshest critics admitted the actor was suited for the role. We got an angrier, more vulnerable and more damaged Bruce Wayne. As depicted in the film, this version of Bruce Wayne has plenty to be angry about. In a new interview, Snyder discusses one particularly painful moment in Batman's backstory.
Affleck's Batman is more of a cynic, and rightfully so. The character has experienced plenty of heartbreaking losses. In Batman v Superman: Dawn of Justice, the loss of three innocent lives — his parents and Robin — mean a great deal to him. So it only makes sense that when he sees thousands of innocent people killed in Metropolis, it sets him off.
Zack Snyder's film doesn't go into great detail about Robin's death, and nor does it need to. The shot of the sidekick's suit, marked with bullet holes and the Joker's scribbles, was all that really needed to be said. Snyder explained the significance of Robin's death to IGN:
In my mind, it was that Robin had died 10 years earlier, during some run in with a young Joker (Jared Leto). To me, it was a fun backstory there to play with. The whole idea was that there had been loss and sacrifice. In a weird way, he scarified everything to be Batman, right? He doesn't really have a life outside of the cave. I thought by including Robin — a dead Robin — it would help us understand he's been on quite a little journey.
Even when Bruce Wayne is at a party, he's always on the clock. Besides Alfred (Jeremy Irons), he has no real personal connections in the film. This Bruce Wayne wouldn't let anyone get close to him. Wayne's anger and isolation makes complete sense, and Affleck sells it well.
Perhaps we'll see Robin's death in the solo Batman film Affleck has written. Just today Affleck's agent, Patrick Whitesell, who actually had a role in Terrence Malick's Knight of Cups, confirmed the solo Batman film is still a possibility:
He's contracted to do at least Justice League One and Two, so at least three times wearing the cape ... There's a script that he's written that is a really cool [Batman] idea, so that's out there as an option.
The actor, writer, and director is currently collaborating with the chief creative officer at DC Comics, Geoff Johns, on a project, which we're presuming is the Batman spinoff. It was rumored we would see the Affleck-directed Batman film in 2018, after he finishes up work on his next directorial effort, Live by Night.
Batman v Superman: Dawn of Justice is now in theaters.