'Scorpion' Cast Previews Fort Knox Episode And New Team Member [Wondercon]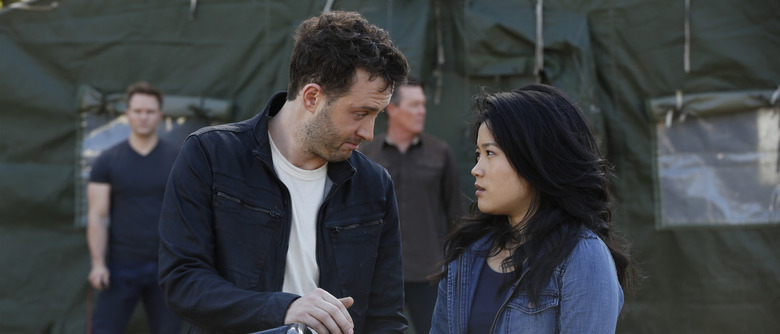 Members of the cast of Scorpion attended a Wondercon panel for the CBS show. Based on the cases of Walter O'Brien, a team of geniuses helps Homeland Security solve crises, many based on O'Brien's true missions. An upcoming episode will portray the Scorpion team break into Fort Knox. Eddie Kaye Thomas, who plays compulsive gambler Toby Curtis, told reporters about the episode.
"It doesn't go smoothly, I can tell you that," Thomas said. "Like everything else that we do on Scorpion, it's possible but not probable. We almost die but no one's going to die at Fort Knox. It gets very close and it's a very fun episode, it's very cool." 
Scorpion's Homeland Security agent is Cabe Gallo (Robert Patrick). Cabe recently added his Homeland Security agent Tim Armstrong (Scott Porter) to the team. Patrick believes Cabe expects the addition of Armstrong to shake up the team, but it's a calculated risk.
"He knows each one of the team members so well, he knows the problems that are going to arise," Patrick said. "He can see how this is going to cause this guy to react this way and this guy to react this way, but he also knows that they'll learn something from it and they will get over it. Ultimately, it will serve the whole team and as a result mankind in general. His character embodies all those men and women of the armed forces that really earnestly believe and without any hesitation want to step up for the rest of us. You couldn't have gone to a better actor than Scott to play that part because he really is quite an amazing kid."
Toby continues to develop a romance with fellow Scorpion team member Happy Quinn (Jadyn Wong). "There's a very exiting Toby/Happy development coming that is not what you're expecting," Thomas said. "It's really cool what the writers came up with. It's something that I know Nick Santora had in mind from a long time ago. Questions are answered and also a lot more questions will be asked in a serious cliffhanger that I think will get social media all aflutter."
Love is an odd concept for any member of Scorpion because it defies rationality. "They're battling logic and their intellectual brains and just allowing love to happen," Thomas said. "I think this season has just been that struggle of letting go of logic and allowing love. It's been a slow, steady wonderful development."
So far, things remain copacetic between Cabe and Walter (Elyes Gabel). That could always change in the next episode. "Walter's my son essentially and things are good with us right now," Patrick said. "With Cabe and Walter, things are really good with us right now. Down the line, am I going to do something stupid? I don't know, I don't write it. Is Walter going to do something stupid? I don't know but right now things are really, really good."
Scorpion airs Monday nights at 9 PM on CBS.