'Sleepy Hollow' Producer Promises New Creatures, Teases Season 3 Finale [Wondercon]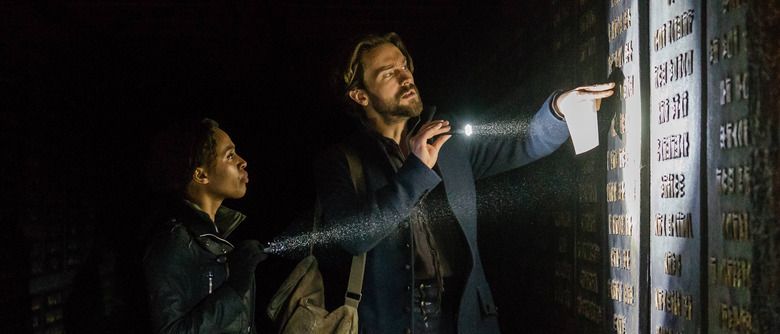 Sleepy Hollow presented a panel at Wondercon with writer and executive producer Clifton Campbell. During a press room roundtable, Campbell spoke with reporters about the future of the show. While the serialized monster show has its overarching big bads for the season, we can still expect to see some new monsters.
"Yes, you will see some awesome creatures," Campbell said. "[Episode] 18 has got a really, really awesome monster that I'm very, very excited about." 
Fox has not yet confirmed whether Sleepy Hollow will be back for a fourth season. Campbell and the writers are not going to play it safe by wrapping up the show just in case. They're leaving it open in the hopes they will return.
"The only way to do a finale that has actual closure is if your studio and network tell you that your show is over," Campbell said. "Then you've got four or five episodes in which you can do that. We're all very hopeful that that's not going to happen so we don't really plan for closure. We plan for moving forward. That's our hope."
The third season finale has a lot to live up to. "This show has a history of our finales being very unexpected and game changing," Campbell said. "That's a challenge we've not only given ourselves but that our studio and network expects. I think this year is no different."
Before the end of the third season, the show will revisit the catacombs, from which Abbie Mills (Nicole Beharie) previously escaped. "We will be returning to the catacombs," Campbell said. "Some interesting things will be learned in that journey. The catacombs are another arc I'm really proud of and I really was excited by that idea."
Recent episodes also saw Abbie and Jenny (Lyndie Greenwood)'s father Ezra (James McDaniel) return into their lives. Campbell is leaving room for Ezra to stay in the picture.
"Ezra Mills is a phenomenal character," Campbell said. "I really enjoy working with Mr. McDaniel. He's awesome and I also think he brings a gravitas to the crew that is awesome. If we get more seasons, I would really hope we would do more with him. He's fantastic."
Sleepy Hollow airs Fridays at 8PM on Fox.