Oscar Isaac Reunites With 'Ex Machina' Director Alex Garland For 'Annihilation'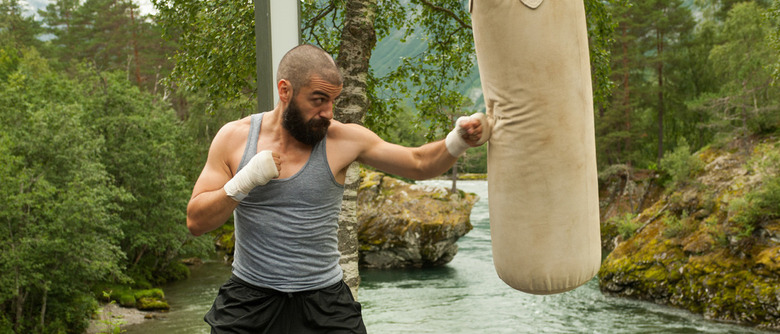 Poe Dameron may have been Oscar Isaac's most famous movie role of 2015, but arguably his best role was as tech genius Nathan in Alex Garland's Ex Machina. The character allowed Isaac to be both mysterious and ordinary, seductive and repulsive, and above all, mesmerizing. No wonder, then, that he's apparently eager to team up with Garland again, this time for Annihilation. Isaac joins an already incredible cast that includes Natalie Portman, Gina Rodriguez, Tessa Thompson, and Jennifer Jason Leigh.
News of Isaac's casting in the film was confirmed by author Jeff VanderMeer, who later added that Isaac will play Portman's late husband in the movie.
Very happy that Oscar Isaac is joining the cast of the movie version of my novel Annihilation!

— Jeff VanderMeer (@jeffvandermeer) March 30, 2016
Annihilation centers on a team of four women who set out on "a dangerous mission where the laws of nature don't apply." They're to explore Area X, a mysterious landscape that's destroyed almost every expedition that's set out on it. Portman plays the narrator, a biologist, and Leigh will play the team leader, a psychologist. The other team members are a surveyor and an anthropologist, but we don't know which specific roles Thompson and Rodriguez will have.
Garland spent years building up a reputation as a screenwriter, working on some of the best genre pics of the past couple of decades including 28 Days Later..., Sunshine, and Never Let Me Go. Ex Machina was his debut as a director, and it was an astonishingly confident piece of work – aided in no small part by a top-notch cast including Isaac, Domhnall Gleeson, and Alicia Vikander. Annihilation looks like a promising next step for him. The cast is a little bigger, and the concept a little more out there, but like Ex Machina, Annihilation looks like an unusually thoughtful and atmospheric sci-fi thriller making the most of an excellent cast.
Isaac will be seen this summer in X-Men: Apocalypse – well, sort of, if you can actually spot him under all that blue makeup — and is now shooting Star Wars Episode VIII, which opens December 15, 2017. Also coming up from him is the romantic drama The Promise, with Christian Bale and Charlotte Le Bon.