Ben Affleck Is Working On "Something" (Probably That Batman Solo Movie) With DC's Geoff Johns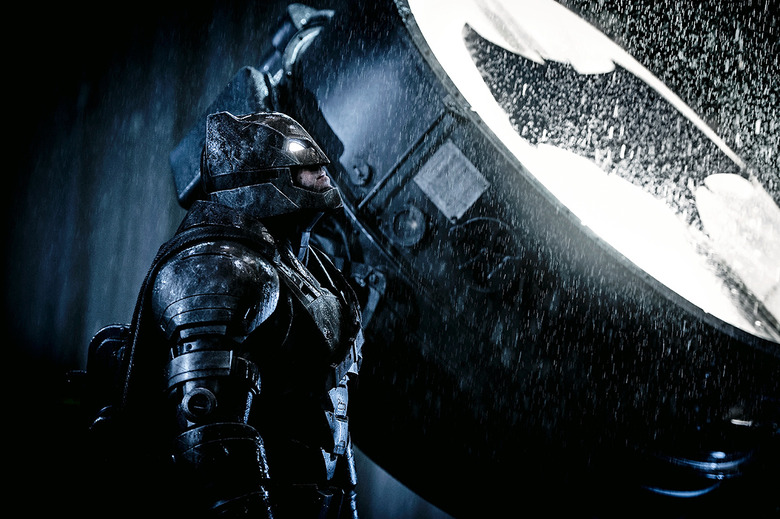 Last summer — close to a year before Batman v Superman: Dawn of Justice hit theaters – word got around that Ben Affleck would star in and direct a solo Batman movie with DC's Geoff Johns co-writing. For its part, Warner Bros. has been pretty quiet about the project, perhaps because they wanted to see how Affleck's Batman would be received before announcing anything official.
But new comments by Affleck seem to back up those earlier reports. While the actor/director doesn't confirm outright that he's collaborating with Johns on a solo movie, he does reveal they're working on a mysterious "something" together. 
Speaking with DC All Access, Affleck gushed about working with Johns — though he hasn't said on what, exactly:
Geoff Johns is a brilliant guy. I consider him to be the most valued resource on all things comic book, and every time I like something in the comic I always mention it he goes, 'oh yeah, I wrote that.' Now I just think he's bulls******* me and he says he wrote everything. You know, he and I are working together on something and I really am excited about it, and I love him, he's the best.
Johns is the chief creative officer at DC Comics, and has worked on several different comic series over the years including Green Lantern, Aquaman, Batman, Justice League, The Flash, and Superman. He's also worked on the TV series Smallville, Arrow, and The Flash, and he's credited as an executive producer on Batman v Superman: Dawn of Justice.
Since Affleck doesn't actually say he's writing the Batman movie with Johns, it's possible he's referring to another project we haven't heard of yet. Maybe Affleck's cooking up a new comic book project now that he's playing a comic book hero? But the most obvious, and therefore most likely, explanation, is that he's talking about the long-rumored Batman movie.
As of now, we don't know when the solo Batman movie might hit theaters. Rumor has it Warner Bros. wants it out sooner rather than later – and that might be especially true now, given that Affleck's Batman was a rare bright spot in a movie that was otherwise savaged by critics and not much loved by fans either. In any case, now that Batfleck's made his debut, look for more updates soon on Affleck and Johns' "something."