New Photos: 'X-Men: Apocalypse', 'Jason Bourne', 'Star Trek Beyond', 'The Neon Demon' And More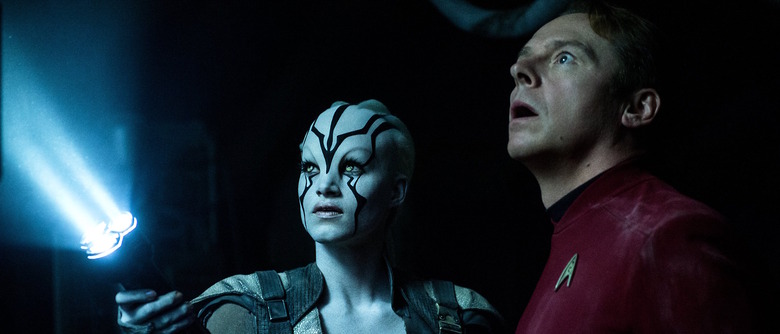 We're only a few days into spring, but summer blockbuster season will be here before you know it. So let's take a few minutes to look ahead at some of this year's most highly anticipated offerings. We've got new photos today from X-Men: Apocalypse, Warcraft, Jason Bourne, Ghostbusters, Independence Day: Resurgence, Suicide Squad, Star Trek Beyond, and The Neon Demon. Check 'em all out below.
Empire released a bunch of new X-Men: Apocalypse images, including one of Ben Hardy as Angel and another of the X-Men team (with a bald Professor X and everything). Much less encouraging is the picture that covers America's Sweetheart Oscar Isaac in swirls of blue. It's bad enough that the film renders him nearly unrecognizable. We don't need additional CG to further obscure his handsome face.
X-Men: Apocalypse will be the fourth of six major superhero movies due out this year, following Deadpool, Batman v Superman: Dawn of Justice, and Captain America: Civil War. At least it'll beat Suicide Squad and Doctor Strange to the multiplex. The film promises to close the book on the existing X-Men trilogy that began with First Class, while paving the way for the next chapter in the ongoing superhero saga. It arrives May 27, 2016.
Moving on, USA Today has a host of new photos from several different upcoming releases, including, as you can see below, Warcraft, Ghostbusters, Jason Bourne, Independence Day: Resurgence, Suicide Squad, and Star Trek Beyond.
The photos above don't feature any shocking new reveals, but if you're desperate for summer to get here already so you can devour these movies one-by-one, these tasty little morsels should help tide you over. This, apparently, will be the summer a lot of dormant properties finally return to the big screen. Warcraft, which we're all hoping will be the video game movie that proves video game movies can be good, hits theaters June 10. Two weeks later, and twenty years after the original hit theaters, Independence Day: Resurgence arrives on June 24.
The following month brings Ghostbusters on July 15, Star Trek Beyond on July 22, and Jason Bourne on July 29. Suicide Squad drops in the tail end of the summer on August 5.
Finally, if your tastes steer a little less "blockbuster sequel" and a little more "arthouse thriller," Nicolas Winding Refn's The Neon Demon has also released some intriguing new stills (via The Playlist). Well – one intriguing new still of Elle Fanning, plus two behind-the-scenes photos of Refn at work.
The Neon Demon hasn't set a release date, but it'll probably hit theaters sometime this year.