'The Lego Batman Movie' Teaser Trailer #2 Winks At 50 Years Of Batman History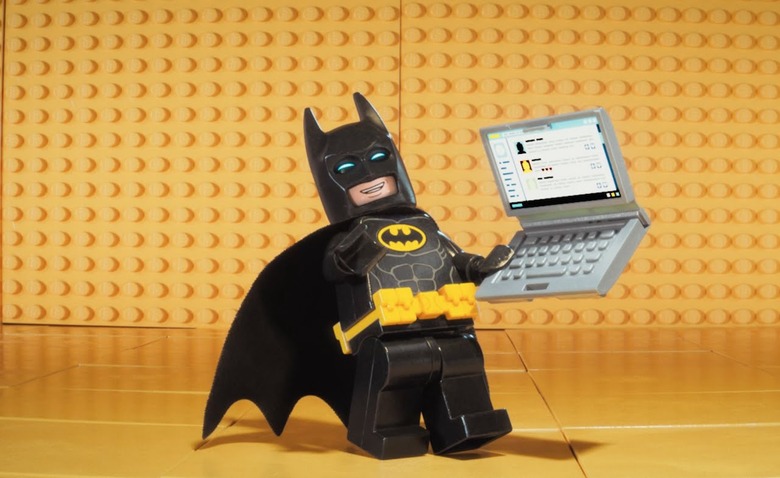 Like most characters who endure for decades, Batman has a way of shifting with the times. Sometimes he's campy, sometimes he's super-gritty, sometimes he's got nipples on his Bat-breastplate, and sometimes he's a super preppy kid who's BFFs with the guy from The O.C. One thing that never changes, however, is his trauma over the death of his parents. Even this month's Batman v Superman: Dawn of Justice features a scene of the Waynes dying, as if audiences might have somehow forgotten that fundamental detail about Batman's origins.
And even the tiny, plastic version of the Dark Knight can't escape that angst. In the new teaser trailer for The Lego Batman Movie — yes, it's the second Lego Batman Movie teaser trailer in one week, because sometimes the gods are good — Lego Batman (voiced by Will Arnett) stares mournfully at a portrait of his late parents, before Alfred (voiced by Ralph Fiennes) points out that we've been down this path many, many times before. 
No surprise that Batman isn't even willing to consider talking about his feelings. If he ever dealt with his trauma in a healthy and rational way, how would he muster up the motivation to put on bat ears and go fight crime?
Producer Chris Miller, who co-directed The Lego Movie, has teased that "every era of Batman filmmaking will be acknowledged" in The Lego Batman Movie. "There have been so many interpretations of Batman and there is so much to play with there. There are 40 versions of his origin story alone," he said in 2014. The new Lego Batman Movie teaser trailer certainly makes good on that promise, though we expect there will be even more homages and references and knowing winks in the movie itself.
Although Batman v Superman: Dawn of Justice made lots and lots of money this weekend, its reception by fans and critics have been mixed, to say the least. There are those who adore Ben Affleck's new version of the Caped Crusader, and those who find the entire DC Extended Universe to be a bit too grim. But both camps should be able to come together on The Lego Batman Movie. Based on the trailers (and based on his appearance in The Lego Movie), Lego Batman stays true to the character's dark vibe, while good-naturedly poking fun at same.
The Lego Batman Movie arrives February 10, 2017. Chris McKay is directing from a script by Seth Grahame-Smith. Also lending their voices to the film are Michael Cera as Robin, Zach Galifianakis as the Joker, Rosario Dawson as Batgirl, and Mariah Carey as the mayor of Gotham City.