'Papa: Hemingway In Cuba' Trailer: The First American Film Shot In Cuba In Over 45 Years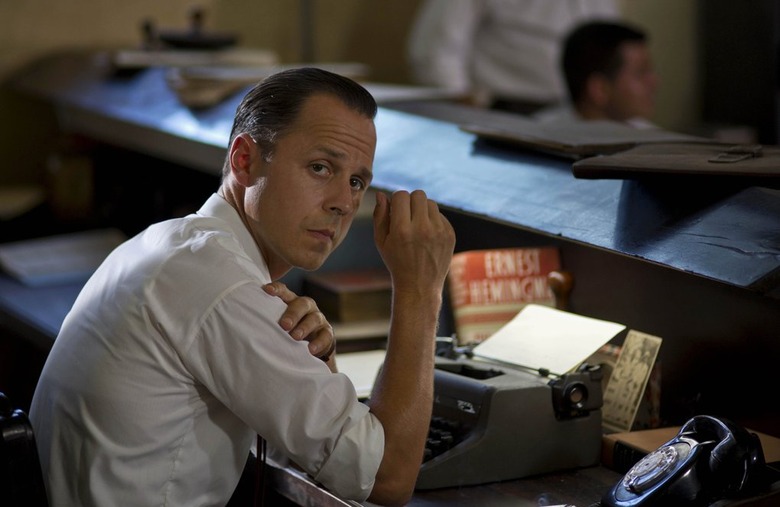 In the past month alone, two biopics (The Program and I Saw the Light) have come out that followed the tired biopic formula. Showing a person's life in a span of two hours isn't easy — and, in some cases, isn't even necessary — but biopics that zero in on a specific time in a person's life, to let that one event or a small series of events speak for the figure, tend to be the bio films that stand out. Papa: Hemingway in Cuba is doing just that, focusing on Ernest Hemingway's time in Cuba.
Luckily for director Bob Yari, he actually got to tell this Cuba-set story in Cuba, making this the first American feature film shot there in over 45 years.
Papa: Hemingway in Cuba wrapped principal photography about two years ago. Following the shoot, The Hollywood Reporter ran a piece on the film, detailing its shoot in Cuba. A lot of the time, the production actually saved money, thanks to the availability of classic cars and more period appropiate settings.Denne Bart Petitclerc wrote the self-autobiographical script, based on his friendship with Ernest Hemingway (played here by Adrian Sparks). Petitclerc, played in the film by Giovanni Ribisi, was a journalist and a massive fan of Hemingway's work. The literary titan kindly invited Petitclerc down to Cuba for a fishing trip.
Here's the Papa: Hemingway in Cuba trailer:
Speaking with The Hollywood Reporter, director Bob Yari explained why Cuba provided the film an authenticity no other location could match:
It was an absolute passion to actually make it in Cuba where everything that is in the script happened, where the finca [farm] is where [Hemingway] lived, where his boat was, all the spots from the Morro castle to Cojimar where he fished. It's all here, so trying to duplicate it somewhere else was not very appealing.
You can't beat those locations highlighted in the trailer. For years, films have been using the Dominican Republic as a stand-in for Cuba, sometimes to seamless results. In this instance, with a story so much about Cuba, it only makes sense to shoot there.
Here's the official synopsis:
Directed by the Producer of the Academy Awarding Winner "Crash and "The Illusionist", "Papa Hemingway In Cuba" is a true story about the relationship between Miami journalist Denne Bart Petitclerc (Giovanni Ribisi) and legendary writer Ernest Hemingway (Adrian Sparks). Set during the Cuban revolution, the film co-stars Joely Richardson and Minka Kelly with a cameo by Hemingway's granddaughter, Mariel Hemingway. "PAPA: Hemingway In Cuba" was shot on location in Havana and inside Hemingway's estate, Finca Vigia. It is the first Hollywood film to be shot in Cuba since 1959.
Papa: Hemingway in Cuba opens in theaters on April 29th.