Kevin James To Star In Football Movie '44'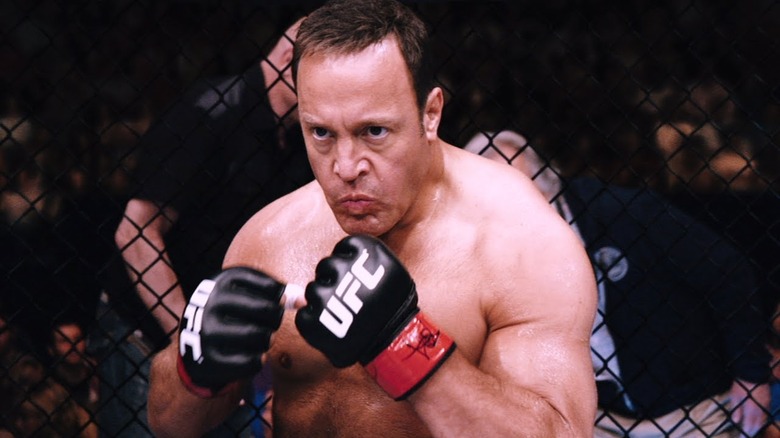 Actor Kevin James has made a UFC movie. Now, it's time for him to make a college football movie. James will star in 44, a true-life story about Joey Williams, a 44-year-old father who returned to college and conquered his dream of playing college football.
Learn more about the project and Joey Williams below.
James will star in the "inspirational football-themed drama" for Alcon Entertainment and Warner Bros. Based on how The Hollywood Reporter describes the project, this isn't the Kevin James football movie some us might be expecting — the really, really broad and slapstick version. Then again, we said the same thing about Here Comes the Boom, Kevin James' UFC movie, which was a surprisingly kindhearted movie, not another purely slapstick comedy.
Screenwriter Christopher Parker has been enlisted to write the script. Parker wrote Heaven Is for Real, so it's clear Warner Bros. and Alcon Entertainment are going for a more inspirational feel-good vibe. Heaven Is for Real and Miracles From Heaven Producer producer DeVon Franklin is producing the film alongside Todd Garner, Lisa Kors and James. Kors bought the life rights to Williams' story, following an NPR story, "A Lineman at 44," on the college football player.
Williams was a a lineman at Lambuth University, where he studied business administration around the year 2003. He played as a third-string guard, and he played on the same team as his son, Kyle. In the NPR interview with Williams, the football player shared his story:
I received an injury in high school that kept me from finishing my high school football career. I had a scholarship to a university there in Tennessee, but turned it down, because I was afraid I would have a problem walking in the future, if I ever had another knee injury. When my son got to playing football, he ended up going to the same junior high and high school that I played at. The memories just started to kill me. I decided to see if I could get myself back in shape to play again. I asked his permission to do it.
Williams was over 300 pounds and didn't want to ruin his son's senior year at college, but Kyle and the rest of Williams' family supported his decision. After getting 80 pounds lighter, the 44-year-old college freshman made it on the team and played in 40% of the games. Williams, a father of four, making an old dream of his happen in middle age could easily be turned into a sappy sports movie or, again, a goofy Kevin James football movie, but hopefully Parker and all involved stay faithful to this inspiring story.