'Captain America: Civil War' International Trailer: Hawkeye And Black Widow Share A Moment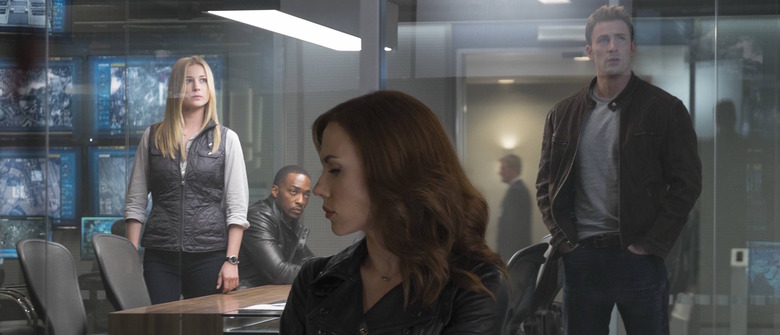 In the first Captain America: Civil War trailer, Iron Man reminds Captain America that they were friends once, to heartbreaking effect. But in truth, the films leading up to Civil War have focused more on the differences between these two superheroes than the friendship between them. While they always team up eventually, there's usually a bit of sniping and grumbling first. Black Widow and Hawkeye, on the other hand? Here are two Avengers who seem to be best buds for life — which makes it all the more devastating to see they're on opposite sides of the coming battle.
The new Captain America: Civil War international trailer gives the two non-superpowered Avengers a nice little moment in the midst of all this strife. It's just a small bit of new footage mixed into a bunch of old footage, but if you're invested in these two, it's worth clicking play to see what happens when these two go head-to-head. Watch it below. 
While this is the first time this particular scene has been released to the public, it was first shown at last year's D23 Expo. Disney has spent eight years and a dozen films fleshing out the Marvel Cinematic Universe and the colorful characters who live within it, and it really shows in Civil War. That Black Widow / Hawkeye moment is all the more intriguing because we know he's the one who recruited her into S.H.I.E.L.D., and that she's become a close friend of his family.
Of course, the Avengers won't just be fighting each other in Civil War. Marvel's been pretty hush-hush about the movie's real villain, Baron Zemo (Daniel Brühl) — so much so that if all you know about this movie is what you've seen in the trailers, you probably have no idea he exists at all. Gotta save some twists for later, we suppose.
Directed by Joe and Anthony Russo, Captain America: Civil War arrives May 6 in the U.S. Here's the synopsis:
Marvel's "Captain America: Civil War" finds Steve Rogers leading the newly formed team of Avengers in their continued efforts to safeguard humanity. But after another incident involving the Avengers results in collateral damage, political pressure mounts to install a system of accountability, headed by a governing body to oversee and direct the team. The new status quo fractures the Avengers, resulting in twocamps—one led by Steve Rogers and his desire for the Avengers to remain free to defend humanity without government interference, and the other following Tony Stark's surprising decision to support government oversight and accountability. Get ready to pick a side and join the nonstop action playing out on two fronts when Marvel's "Captain America: Civil War" opens in U.S. theaters on May 6, 2016.