'Valerian' First Look Photo: Dane DeHaan And Cara Delevingne Suit Up For Luc Besson's Space Epic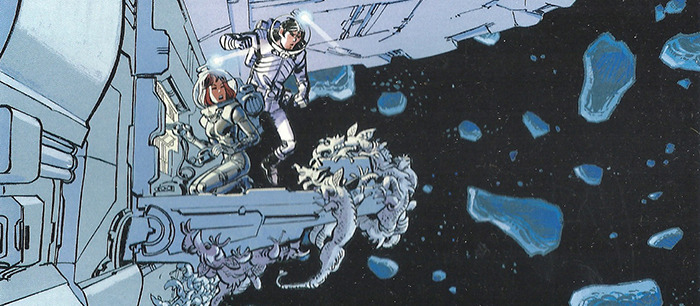 For the past several months Luc Besson has been working on Valerian and the City of a Thousand Planets, starring Dane DeHaan and Cara Delevingne as a pair of futuristic agents whose travels take them through space and time. The project looks like a return to the kind of weird, wild, fantastical sci-fi we saw in The Fifth Element — the source material is even co-written by Jean-Claude Mézières, who worked on The Fifth Element — and as such we've been waiting eagerly to see what it would look like.
Well, today we finally have a little taste. Besson has shared a Valerian first look image featuring DeHaan and Delevingne suited up as Valerian and Laureline, with the promise of much more to come in the near future. 
Valerian and Laureline.... And a guy on the back!???? #DaneDehaan #caradelevingne #badgalriri More pictures tomorrow on @entertainmentweekly ????????
A photo posted by @lucbesson on
To start, those costumes look pretty great: gorgeous and unusual, and loaded with detail. DeHaan's dark hair takes some getting used to, but Delevingne's eyebrow game is as strong in space as it is here on Earth. As Besson says in his caption, we can look forward to more Valerian photos in the near future, so watch this space.
Besides DeHaan and Delevingne, Valerian also stars Clive Owen, Rihanna, Ethan Hawke, Rutger Hauer, Herbie Hancock, and John Goodman, which doesn't sound like a real cast list for a real movie so much as a particularly eclectic game of Celebrity. The film is based on the comic book series Valérian and Laureline, created by Mézières and Pierre Christin. The film's look is described as "Star Wars meets Blade Runner meets The Fifth Element," so it should be a feast for the eyes if nothing else.
Valerian and the City of a Thousand Planets is out July 21, 2017.
Rooted in the classic graphic novel series, Valerian and Laureline- visionary writer/director Luc Besson advances this iconic source material into a contemporary, unique and epic science fiction saga.
Valerian (Dane DeHaan) and Laureline (Cara Delevingne) are special operatives for the government of the human territories charged with maintaining order throughout the universe. Valerian has more in mind than a professional relationship with his partner- blatantly chasing after her with propositions of romance. But his extensive history with women, and her traditional values, drive Laureline to continuously rebuff him.
Under directive from their Commander (Clive Owen), Valerian and Laureline embark on a mission to the breathtaking intergalactic city of Alpha, an ever-expanding metropolis comprised of thousands of different species from all four corners of the universe. Alpha's seventeen million inhabitants have converged over time- uniting their talents, technology and resources for the betterment of all. Unfortunately, not everyone on Alpha shares in these same objectives; in fact, unseen forces are at work, placing our race in great danger.