LOL: 'Batman V Superman' Parody Trailer Pits Ben Affleck's Batman Against Ben Affleck's Superman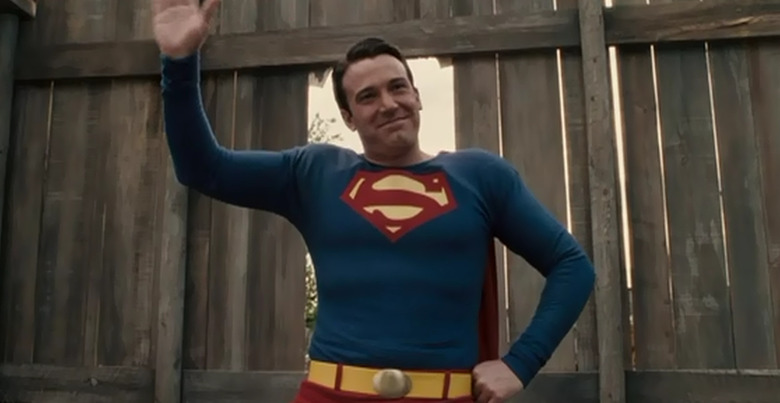 This weekend, Ben Affleck makes his debut as the Dark Knight in Batman v Superman: Dawn of Justice. But as fans of the actor already know, he's played Superman once before, too, sort of: in the 2006 drama Hollywoodland, he plays actor George Reeves, who portrayed the Man of Steel in the 1950s TV series Adventures of Superman.
Naturally, then it was only a matter of time the internet thought to mash up the two performances and pit Affleck's Batman against Affleck's own Superman. Watch the Batman v Superman trailer parody Affleck v Affleck after the jump. 
The Hollywoodland and Batman v Superman clips are too different in terms of style and tone to make for a convincingly unified trailer. But Todd Spence's precise editing makes up for a lot. The tone and rhythm seem right, even if the washed-out greys of Batman v Superman and the bright primary colors of Hollywoodland don't quite mesh. The cut to Batman's epic side-eye after Superman asks whether his, uh, parts are visible through his underwear is just perfect.
Reviews so far suggest Affleck is one of the very best parts of Batman v Superman: Dawn of Justice, and Affleck earned a lot of praise for his work in Hollywoodland. So with apologies to Henry Cavill, maybe adding even more Affleck to Batman v Superman is secretly a genius idea. Unfortunately, since Affleck v Affleck is just a fake trailer and not a real one, we'll never get to see what would really happen if Affleck's Batman and Affleck's Superman went head-to-head. It also means we can only dream about a DC-Marvel crossover in which Affleck's Daredevil gets to join the fray as well.
On the flip side, that means we can decide for ourselves. Who wins in a fight, do you think? Ben Affleck's Batman or Ben Affleck's Superman?