Taylor Kitsch Making Directorial Debut With 'Pieces'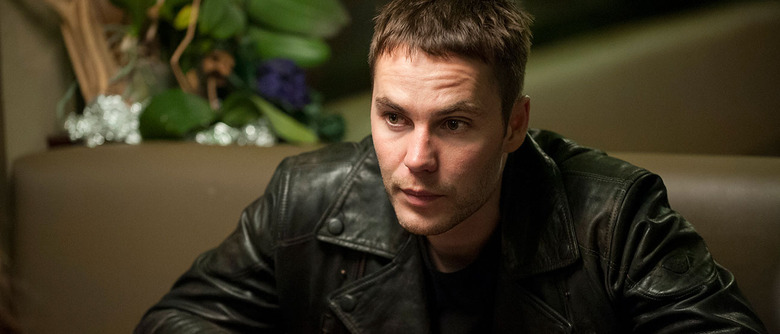 Taylor Kitsch's career in front of the camera has an uneven one. He shot to fame playing dreamy Tim Riggins in Friday Night Lights, but his performance as Gambit in X-Men Origins: Wolverine was met with shrugs and his would-be franchise-starter John Carter was a big, expensive flop. True Detective sounded like a good next step on paper, but Kitsch had the bad luck to star in the show's polarizing second season instead of its widely acclaimed first one.
But maybe he'll have more luck stepping behind the camera for a change. Kitsch is set to make his feature directing debut on Pieces, a crime drama which he will also write, produce, and star in. Peter Berg, who directed Kitsch in Friday Night Lights, Battleship, and Lone Survivor, will produce.
Deadline got the scoop on Taylor Kitsch directing Pieces. The project reunites several key members of the Lone Survivor team: in addition to Kitsch and Berg, Pieces will also be produced by Randall Emmett and George Furla. The duo's Emmett / Furla / Oasis Films will finance the project. The plot concerns three best friends in Detroit whose lives are forever changed when they intercept a drug run. It's to be a longer version of Kitsch's short film of the same title, the trailer for which you can see below.
Kitsch hinted at his filmmaking ambitions in 2014, when he finished that short. In an interview with Indiewire, he described his own style as "simple done well," and offered hints as to what the feature version of his Pieces short might look like. "I think you would get more into the life of Kyle, my character," he said. "He's a completely different guy than what he is in the feature because of just the way we have more time. We get to dive into him. So I want to make him have so many more layers as well.
Directing Pieces should keep Kitsch busy for some time, but he's not abandoning the limelight completely. He's got a role coming up in The Death and Life of John F. Donovan, the English-language debut of French-Canadian filmmaker Xavier Dolan.
Shooting on Pieces will begin this summer in Texas. No release date has been set.