'Killer Klowns From Outer Space' TV Series In The Works?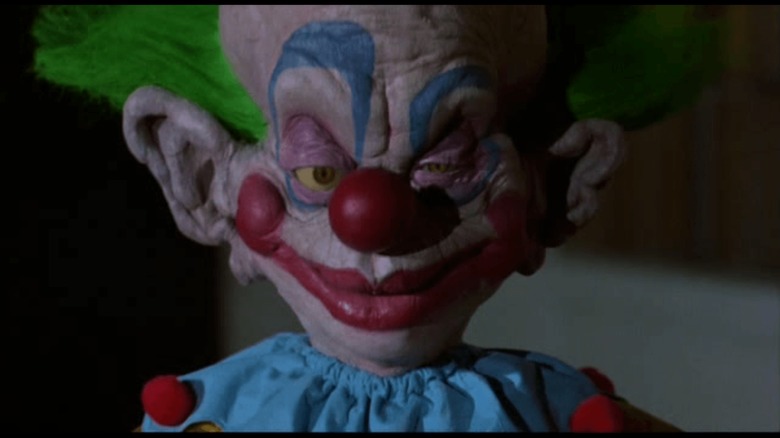 Killer Klowns from Outer Space was a movie that I was obsessed with as a child, and I still love it today. A sequel to the cult classic has been in the works for years, but it now looks like it won't hit the big screen after all. Instead of a big screen 3D sequel, the new plan is for a small screen television series which would act as both a sequel and a remake. Learn the details about the Killer Knowns From Outer Space tv series, after the jump.
The film's original director, co-writer and Klown puppeteer Stephen Chiodo recently appeared on the Movie Crypt Podcast (found via MovieWeb) and revealed that the project is now being planned as a television series:
"Right now, we are currently pursuing a long arch series for cable. We wondered, should we do a sequel to the first one or do we do a remake? We came up with a 'requel' – it's a sequel and a remake. We've been developing this for a while. It's a trilogy in four parts, and it really follows the continuing adventures of new people who are experiencing this phenomenon of a Klown invasion, and once in a while you see some of the old guys pop up and hear their stories – find out what happened over the last 25 years. It's fucking great."
The statement is a little unclear as he mentions a long arch cable television series but later mentions a "trilogy in four parts," what does that even mean? The success of Starz' Ash Vs. Evil Dead probably proves there is a fan base for a violent cult horror television show, although I still think a movie sequel would be the better way to go — and a 3D bloodiest could have been fun. Of course, the people involved in the original film have been talking about a follow-up for years now, so who knows if anything will ever come of it.
In 2011, we even heard that a Killer Klowns from Outer Space sequel was being developed called The Return of the Killer Klowns from Outer Space in 3D. At the time people involved with there project claimed that a script was completed and they even had a commitment for funding, all they needed to secure was distribution. The story was to connect to the first film with Grant Cramer's character returning as the mentor to two new young leads that have to try save the world from the Klowns when they return. Cramer said that the pot also involved them "trying to save themselves because the bad stuff the Klowns do at first gets blamed on them." The Chiodo brothers were expected to produce, with Stephen Chiodo back in the director's chair.
The original Killer Klowns from Outer Space was released May 27th, 1988.