Margot Robbie To Lead Tonya Harding Movie 'I, Tonya'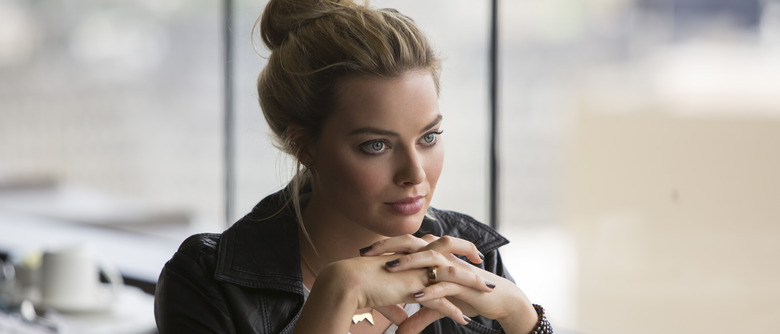 Margot Robbie will follow up her villainous turn in Suicide Squad by playing another famous baddie. She's just attached herself to I, Tonya, a biopic about American ice skater Tonya Harding. Though a gifted athlete, Harding really shot to lasting infamy when she hired someone to incapacitate fellow skater Nancy Kerrigan ahead of the 1994 U.S. Figure Skating Championships.
Deadline got the scoop on the Margot Robbie Tonya Harding project. Robbie is now out to find a director to bring to life the script by Steven Rogers (Love the Coopers). She is producing through her LuckyChap Entertainment banner, alongside Bryan Unkeless and Clubhouse Pictures. Harding wrote his screenplay based on extensive interviews with Harding and her ex-husband Jeff Gillooly. The trade compares I, Tonya to Gus Van Sant's To Die For, a black comedy that starred Nicole Kidman as a weather reporter who manipulates a group of teenagers into murdering her husband.
Harding overcame a rough blue-collar childhood in Portland to rise to the top of a sport dominated by wealthier competitors. Her career peaked in 1991, when she became the first American to land a triple axel at an international event. In 1994, she and Kerrigan were selected to represent the U.S. at the Winter Olympics in Lillehammer. Several weeks before the competition, Kerrigan was attacked by a man who'd been hired by Harding and Gillooly to break her leg. Fortunately, her leg was only bruised, not broken, and Kerrigan recovered in time to win the silver medal at the Olympics. Harding came in eighth.
The scandal sparked a media frenzy, and made figure skating one of the events to watch at that year's Olympics. Gillooly soon turned on Harding, who eventually pleaded guilty. She was stripped of her 1994 U.S. Championships title after the U.S. Figure Skating Association conducted their own investigation and concluded she had known about the attack, and banned from the organization for life.
Robbie can currently be seen opposite Tina Fey in Whiskey Tango Foxtrot, and will be seen later this summer in The Legend of Tarzan and Suicide Squad. In the short time since she broke out in Martin Scorsese's The Wolf of Wall Street, she's proven herself to be an impressively versatile and charismatic actress — check out her understated work in Craig Zobel's Z for Zachariah to see her in a different kind of role.