Warner Bros.' DC Universe Has No Plans To Go R-Rated, Says 'Batman V Superman' Producer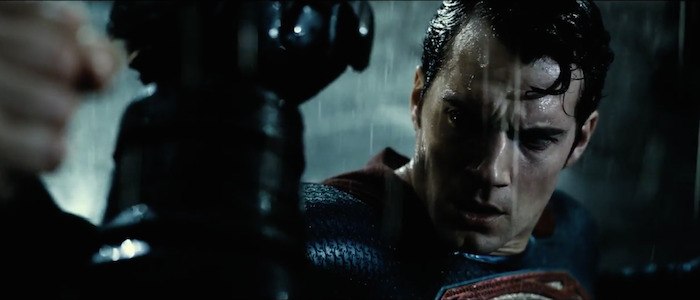 Ever since Deadpool utterly demolished the box office last month, superhero movie fans and pundits have been waiting breathlessly for "the Deadpool effect" to take hold — that is, for R-rated superhero adventures to start flooding the multiplex. But so far, the Deadpool effect is more theory than fact. Yes, Wolverine 3 might be rated R, but those plans were in motion before Deadpool hit. Ditto the R-rated home video edition of Batman v Superman: Dawn of Justice.
Meanwhile, Marvel Studios has been quite clear that its movies will stay PG-13, and it sounds like Warner Bros.' competing DC universe isn't in any rush to go R-rated either (Batman v Superman "ultimate edition" notwithstanding). Find out below why we shouldn't expect any DC movies rated R.
Speaking with Collider, Batman v Superman producer Charles Roven downplayed the possibility of R-rated DC movies:
At the moment, my understanding is we are still releasing Suicide Squad as a PG-13, so there hasn't been to my mind a serious conversation about doing anything other than that. I understand why Deadpool was released as an R-rated film, and I think that the DC Justice League characters, particularly because so many of them are so iconographic, have been around for so long and for so many generations that have grown up with them, and that are still growing up with them, I think we want to present them, when we finally present them, to the broadest possible audience that we can. I think that's why we've planned on making these movies PG-13.
I'm not seeing any real reason to change. We've made some pretty edgy films that are rated PG-13. You never want to say "never" because we all evolve, but right now I think we're staying that course.
Appealing to "the broadest possible audience" is exactly why most of these gigantic superhero movies avoid R-ratings and try to hit that PG-13 sweet spot, and if a studio is going to purposely exclude a sizable chunk of its potential audience, it better have a good reason for it. In Deadpool's case, its irreverent antihero benefited from the freedom of an R rating – his lack of a filter was a huge selling point. That's not necessarily true of marquee DCEU characters like Wonder Woman or the Flash.
Especially since, as Roven points out, a PG-13 still lets you get away with a fair amount. And Roven should know. Before Batman v Superman, he produced Christopher Nolan's Dark Knight trilogy, which are as dark and twisted and disturbing as any mainstream superhero franchise in recent memory — and all three of them are rated PG-13. (What that says about the MPAA's tolerance for violence, and whether that's a good thing or a bad thing, is a conversation for another day.)
None of this is to say that the Deadpool effect has been debunked. Movies like these take years to plan, shoot, and release, so even if Deadpool does inspire studios to greenlight a new wave of hard-R superhero movies, it might be a couple of years before they actually hit theaters. But the fact that studios seem to be taking their time considering the merits of an R rating, rather than speeding blindly into a new trend, seems like a good thing for them and for us as moviegoers.