Michael Mann And Don Winslow Working On A Tony Accardo And Sam Giancana Biopic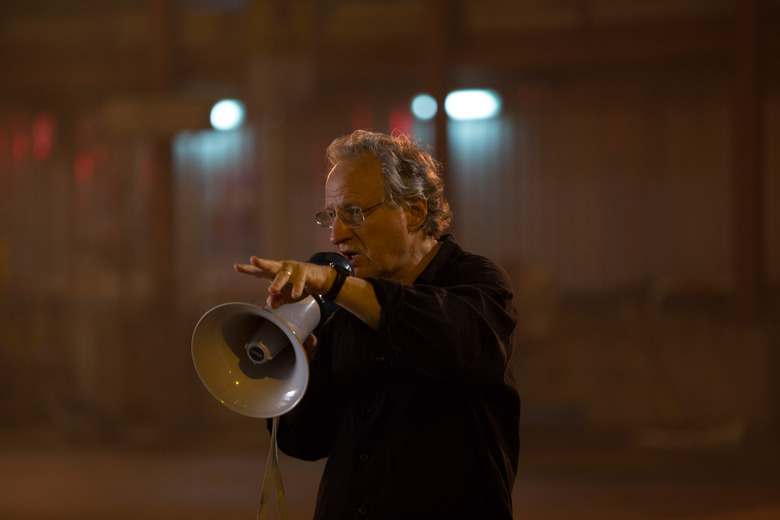 The other day we learned director Michael Mann is working on a prequel to Heat, which shocked quite a few of the director's fans. Under Mann's new venture, Michael Mann Books, the prequel will begin as a novel, and possibly be adapted into a film or television series. Just two days after that announcement, another project from Michael Mann Books is in the works: author Don Winslow (Savages) is writing a novel about Chicago crime boss Tony Accardo and his successor Sam Giancana, which Mann might adapt into a feature film.
This isn't the first time Winslow and Mann have collaborated. Years ago the director was attached to an adaptation of Winslow's novel The Winter of Frankie Machine, which William Friedkin (The French Connection) is currently developing. Winslow is now taking on this crime story with Mann, who has been itching to make a film about Accardo and Giancana for years now.
According to Deadline, Mann will now produce and possibly direct the Tony Accardo and Sam Giancana biopic, based on Winslow's novel and a script the director co-wrote with Shane Salerno (Savages, Avatar sequels), whose The Story Factory reps Michael Mann Books. Once Winslow finishes up his next novel, he'll begin writing this project in late spring. Shortly after that, Michael Mann Books will have discussions with publishers. The plan is to release the novel in 2017, and if we're lucky enough, maybe we'll see Mann direct the adaptation soon after it's published.
Winslow is no stranger to sprawling crime stories. Two of his most acclaimed novels, The Power of the Dog and its recent sequel, The Cartel, which Ridley Scott is attached to direct, are epic in scope. He has a cinematic style of writing as well, so him and Mann should make for a fine pairing for this true-life crime story. For the novel, it's worth noting Mann acquired rights and previously undisclosed material from the Accardo family.
Tony Accardo ran the Chicago outfit, the most powerful mob in all of America at the time. The Big Tuna got his start as a gangster with the infamous St. Valentine's Massacre and his time as a crime boss lasted eight decades. Sam Giancana was the one that took the outfit to the next level, getting involved in Las Vegas, politics, the music industry, and more. It's a long, wild story — the kind of story author and screenwriter Don Winslow should do wonders with.