'Warcraft' TV Spot Teases A Mano-A-Mano Showdown Between Human And Orc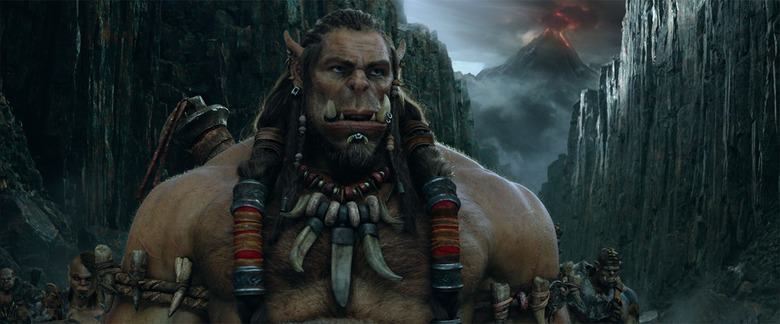 As we inch toward summer blockbuster season, one of the biggest question marks on the calendar is the video game adaptation Warcraft. The source material is one millions of fans around the globe are deeply familiar with, but how will it play as a movie? Will Warcraft be the one to break the so-called "video game curse"? Can it draw in the non-gamer audience? And what about that director, Duncan Jones? There's no doubt he's a talented and creative director — just check out his earlier films, Moon and Source Code — but Warcraft is a far bigger, more fantastical movie than anything we've seen from him before. Can he still deliver the goods on such a gigantic scale?
We've got our fingers crossed for the best, and the earlier trailer and TV spot have suggested that this movie won't lack in scope or painstaking detail. Now a new Warcraft TV spot has arrived with still more footage for you to ooh and ahh over and eagerly (or perhaps anxiously) pick apart. 
Not a single word is uttered in the latest Warcraft TV spot, unless you count battle cries or bird calls or the narrator saying "Warcraft: rated PG-13." Instead, we get an extended peek at a mano-a-mano showdown between human and Orc, followed by a smattering of exciting imagery from the rest of the movie. But as the saying goes, a picture is worth a thousand words, and what these pictures are telling us is that Warcraft is going to be epic in scope and beautiful to behold. If you're missing big, cinematic, high fantasy spectacles now that the Lord of the Rings and Hobbit trilogies have come to an end, Warcraft looks like it could scratch that itch.
Jones has gone out of his way to show prospective audiences that Warcraft isn't all CG – more of those sets are practical than you might think, especially if you remember the wall-to-wall green screen of, say, the Hobbit sets. Still, CG is a huge part of what's bringing this world to life, and it has the potential to break this film if it's not up to snuff. Fortunately, it's looking pretty damn good from here. That opening duel looks utterly convincing, utterly gorgeous, and utterly dramatic.
Warcraft arrives in theaters June 10, 2016.
The peaceful realm of Azeroth stands on the brink of war as its civilization faces a fearsome race of invaders: Orc warriors fleeing their dying home to colonize another. As a portal opens to connect the two worlds, one army faces destruction and the other faces extinction. From opposing sides, two heroes are set on a collision course that will decide the fate of their family, their people and their home.
So begins a spectacular saga of power and sacrifice in which war has many faces, and everyone fights for something.