Universal Building Real-Life Willy Wonka's Chocolate Factory, Broadway Musical Planned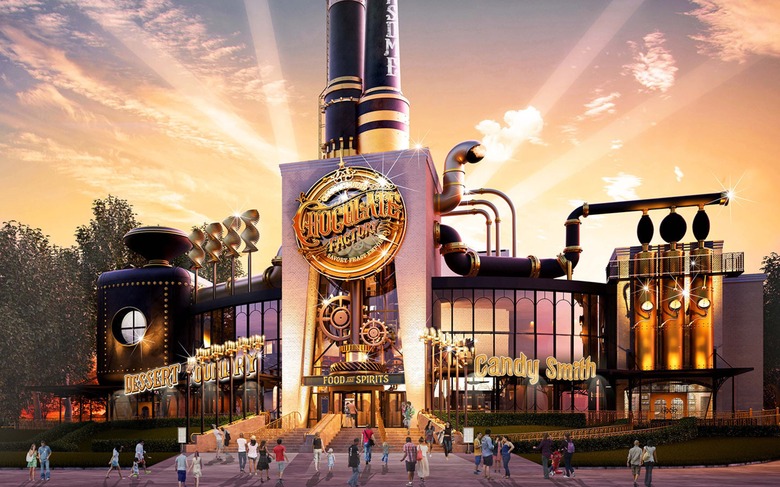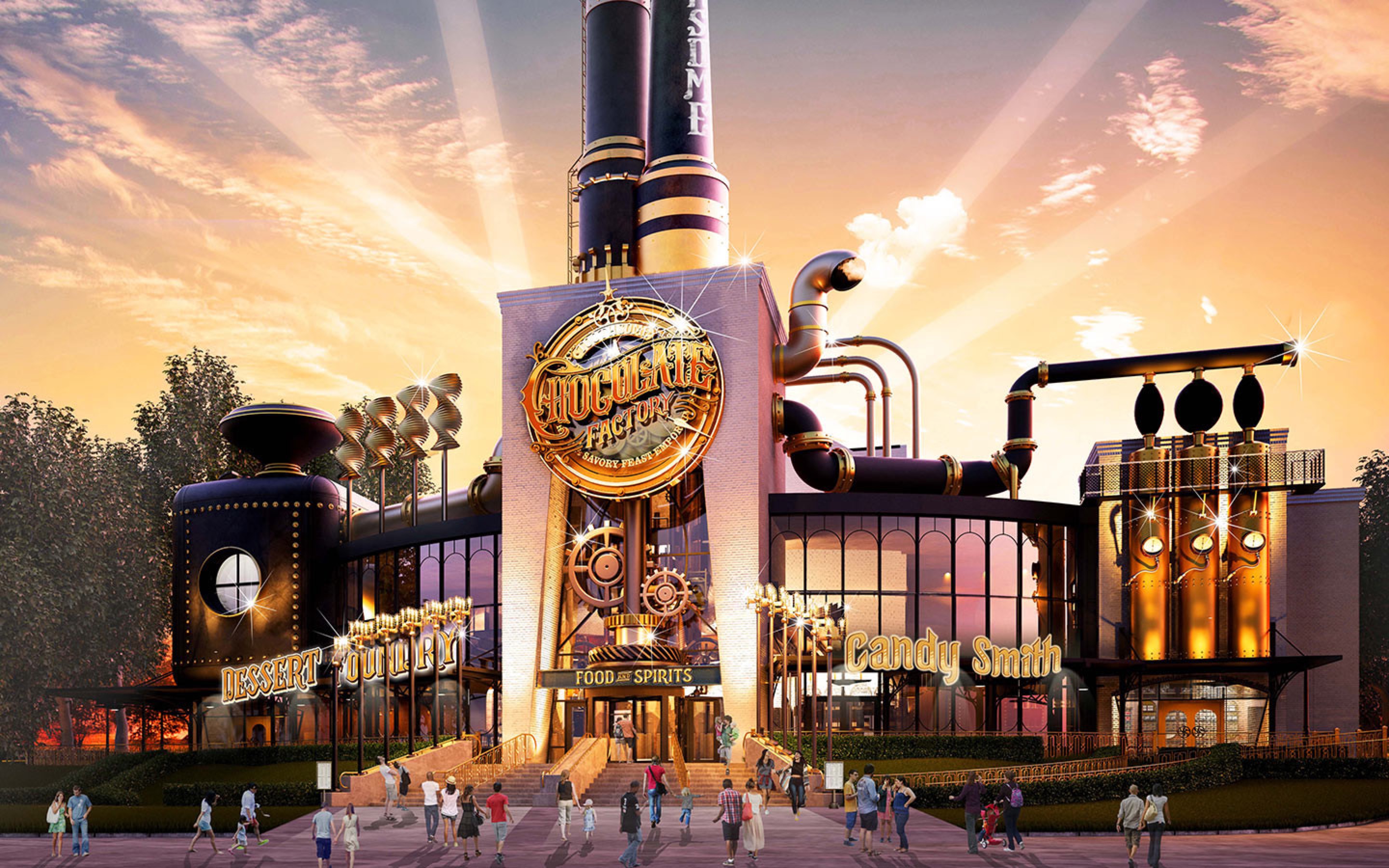 I'm sure I was like many other children, watching Charlie and the Chocolate Factory and imagining what it would be like to visit this fictional candy wonderland. Well now news comes that Universal Studios will be building a real-life Willy Wonka's Chocolate Factory as part of their Universal Orlando resort. And coincidentally, Warner Bros has announced that they will be launching a Charlie and the Chocolate Factory musical on Broadway in spring 2017. Learn details on both of these projects, after the jump.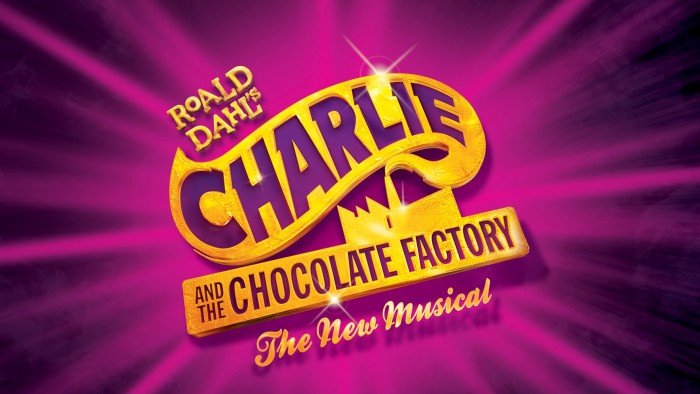 First up, Warner Bros. Theater Ventures has announced that Jack O'Brien ("Hairspray," "The Coast of Utopia") will direct a new broadway musical adaptation of Charlie and the Chocolate Factory, which is targeting an opening in spring 2017. Sam Mendes was originally set to direct the musical, but now the project will be retooled a bit with Variety confirming that O'Brien will reteam with his Hairspray songwriters Scott Wittman and Marc Shaiman on the project, alongside Smash/On the Town choreographer Joshua Bergasse.
There has not been an exact opening date announced, nor has theater or casting info been revealed. The musical had been playing in London's West Hollywood End since 2013, directed by Mendes and choreographed by Peter Darling.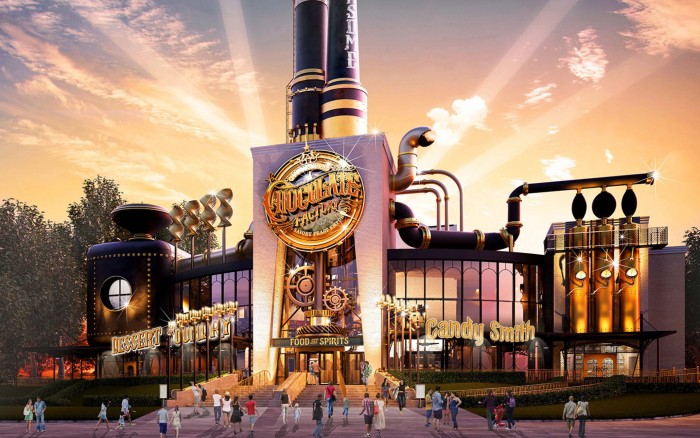 This morning Universal Studios announced that they will be opening a real-life Willy Wonka's Chocolate Factory in Universal CityWalk at the Universal Orlando resort called The Toothsome Chocolate Factory.
Opening later this year, The Toothsome Chocolate Factory will transport you into a 19th century-inspired Steampunk chocolate factory. You'll indulge your appetite amidst towering smoke stacks, funky gadgetry, and staff wearing unique Steampunk fashion. The food will take your imagination to new heights with a menu that features unique twists on classic steak, seafood and pasta entrees, gourmet burgers, sandwiches, incredible salads, all-day brunch and so much more. And the desserts will be simply...stunning. ... You'll even be able to watch chocolate creations being made—and purchase your very own from the restaurant's retail shop to take home and enjoy.
The steampunk-style almost feels like a reaction to the news that Disney is brining the Los Angeles' steampunk/industrial-styled bar The Edison to their revamped Downtown Disney, which has been renamed Disney Springs. And strangely it appears that Universal was unable to attain the Willy Wonka brand license, even though I think most people will assume its related to the book turned movie and candy brand. Regardless, I still need to go there once it opens.
Unfortunately the Chocolate Factory is not a theme park experience, but a restaurant concept. It would have been much cooler to put it in the park and offer both a "boat ride" through the factory and also have a factory restaurant inside the ride (ala Disneyland's Blue Bayou inside Pirates of the Caribbean). But what do I know, I just do a lot of backyard Imagineering.
Universal has given us a sneak peek of some of the milkshakes being offered at the shop:
Chocolate x5: An explosion of chocolate with chocolate spirals, chunks, ice-cream and whipped cream.
Bacon Brittle: A fun twist on a breakfast favorite with bacon ice cream, bacon brittle, chocolate covered bacon and bacon caramel.
Espresso Buzzzz: A coffee lover's dream with coffee ice-cream and chocolate covered beans.
Red Velvet: A milkshake topped with a Red Velvet cupcake... enough said.
Key Lime Pie: We've taken this classic Florida dessert and turned it into a delicious shake. You'll even get a slice of pie on top!
The sundaes are anything but ordinary with flavors like Salted Caramel Flan, Chocolate Brownie Bark and S'mores. This extreme twist on a summer favorite features layers of chocolate ice-cream, chocolate sauce, marshmallow cream and graham crackers.
The desserts in the photos look incredible. The Toothsome Chocolate Factory will open sometime later this year.