'X-Men: Apocalypse' Trailer: Oscar Isaac Brings About The End Of The World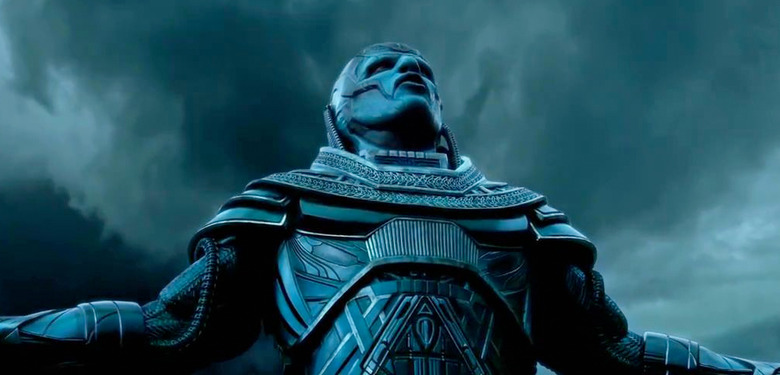 20th Century Fox has dropped the new trailer for X-Men: Apocalypse, the first time we'll see the core X-Men team since X-Men: Days of Future Past wiped the slate clean and rebooted the timeline. Not that turning time off and on again seems to have helped much: the X-Men, as usual, find themselves faced with chaos and devastation and possibly the end of the world as we know it, this time thanks to an ancient, godlike mutant known as Apocalypse (Oscar Isaac).
Professor X (James McAvoy) continues fighting the good fight with his team of fledgling superheroes, including the young Cyclops (Tye Sheridan) and Jean Grey (Sophie Turner), while Magneto (Michael Fassbender) is enlisted as one of Apocalypse's Four Horsemen. Watch the X-Men: Apocalypse trailer after the jump.
In terms of years, X-Men is the longest-running continuous superhero franchise we have right now — the first X-Men, released in 2000, predates even Spider-Man or Batman Begins. But X-Men: Apocalypse will be a turning point for the series. Not only does it close out the trilogy that started with X-Men: First Class, but it'll be the last X-Men film for Jennifer Lawrence and Hugh Jackman (though he's still got his solo movie coming up), and possibly some of their co-stars as well. At the same time, it introduces new versions of several characters we know and love including Cyclops, Jean Grey, Nightcrawler (Kodi Smit-McPhee), Storm (Alexandra Shipp), and Angel (Ben Hardy). Perhaps it's fitting that this film is the one that deals with a literal apocalypse.
X-Men: Apocalypse opens May 27.
Following the critically acclaimed global smash hit X-Men: Days of Future Past, director Bryan Singer returns with X-MEN: APOCALYPSE. Since the dawn of civilization, he was worshipped as a god. Apocalypse, the first and most powerful mutant from Marvel's X-Men universe, amassed the powers of many other mutants, becoming immortal and invincible. Upon awakening after thousands of years, he is disillusioned with the world as he finds it and recruits a team of powerful mutants, including a disheartened Magneto (Michael Fassbender), to cleanse mankind and create a new world order, over which he will reign. As the fate of the Earth hangs in the balance, Raven (Jennifer Lawrence) with the help of Professor X (James McAvoy) must lead a team of young X-Men to stop their greatest nemesis and save mankind from complete destruction.