'The Wild Life' Trailer: Get Ready For Another Wacky Talking Animal Movie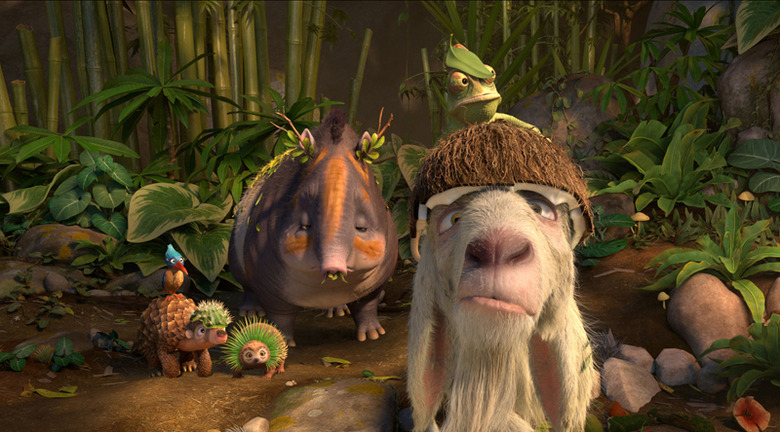 Originally titled Robinson Crusoe, The Wild Life is a spin on the classic adventure story. Written by Daniel Dafoe and published in 1719, the book follows a man, Robinson Crusoe, who's been shipwrecked, stranded on an un-inhabited island. The Wild Life poses the question: what if he wasn't alone?
Watch The Wild Life trailer below.
Directed by Vincent Kesteloot (A Turtle's Tale 2: Sammy's Escape from Paradise) and Ben Stassen, the animated pic is a Belgian feature that's been retitled for American audiences. The kids film has already opened in plenty of territories overseas, and it's done respectably at the box-office so far. The Wild Life, which features Robinson Crusoe as a protagonist, is another talking animal movie. The film opens in the U.S. later this year.
Here's The Wild Life trailer:
All in all, pretty much what we expect nowadays from a talking animal feature. There are actually a few decent jokes in the trailer — "he's stripped off his skin!" — but with that pop song and the two butt jokes, The Wild Life looks like an animated movie aimed directly towards kids. That's fine, of course, as it is a kids' movie. It's just hard to imagine anyone over the age of 10 enjoying this style of comedy and animation.
There have been a few Robinson Crusoe adaptations to date. A live-action version starred Pierce Brosnan in the titular role and was released in 1996, but it was dumped into theaters with little press or attention. The Wild Life will probably be the bigger success of the two.
Here's the official synopsis:
From the over-exuberant parrot Mak to the snack-obsessed tapir Rosie, from the persnickety echidna Epi to the acrobatic pangolin Pango, from the ditzy goat Scrubby to the commonsensical kingfisher Kiki and the always-cool chameleon Carmello, things are larger-than-life on a tropical isle that is pure wild animal paradise. Then Robinson Crusoe, a marooned human, arrives in the midst of a furious storm, and their lives are forever changed by this bewildering new "creature." No matter their differences, castaway human and quirky animals embark on an hilarious new adventure, building the island's first tree-house and surviving together. But when two conniving members of the animal kingdom — the savage cats Mal & May – pounce into a battle for control of the island, Crusoe and his animal posse must uncover the true power of friendship against all odds (even savage cats).
The Wild Life opens in theaters September 9th.