Video: Nike's Self-Lacing Shoes Revealed, Inspired By 'Back To The Future'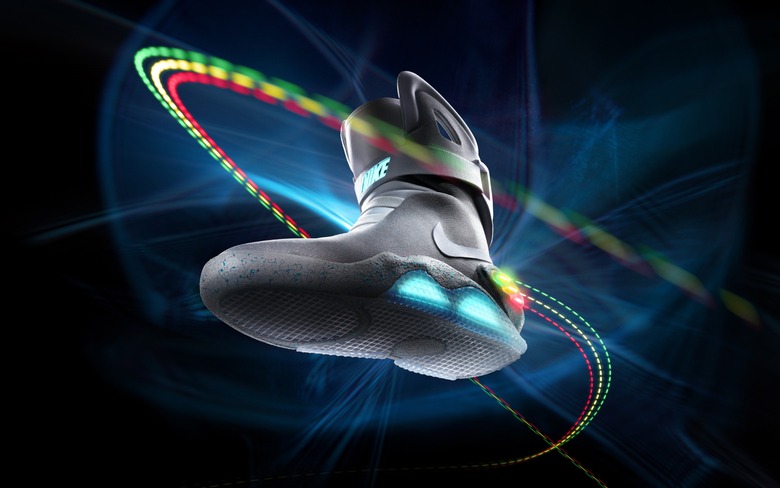 You might recall that late last year on Back to the Future Day (October 22nd 2015) it was revealed that Nike's Tinker Hatfield was hard at work making sure at least one of Back to the Future Part II's predictions came true. The shoe designer hand-delivered a prototype of self-tying Nike Mags to Back to the Future star Michael J. Fox , with the promise that the real sneakers would be released in spring 2016. Now we finally get a look at the finished product.
Wired has revealed a video unveiling Nike's Hyperadapt 1.0 shoes which will arrive in stores on November 28, 2016 with no price yet to be revealed. Nike is calling the self-lacing sneaker system "Adaptive Fit Technology." A heel sensor will reccognize when you step into the shoe, triggering a mini-motor which tightens and loosens the cables. A rechargeable battery powers the entire system including a light up feature. The battery takes three hours to charge and enables the shoes to function for two weeks before needing to be plugged in again.
Our original story from March 16th 2016 follows:
Yeah, the sneakers don't look like the futuristic Nike MAG sneakers from Back to the Future Part II, probably because they will be doing a limited edition release of that style. Nike has said that the limited edition self-tying Nike MAGs "will only be available via auction, with all proceeds going to the Michael J. Fox Foundation for Parkinson's Research. The specific details on the auctions will be posted to Nike News and via Twitter @Nike in spring 2016."
The sneaker teased in the commercial above is called the Nike HyperAdapt 1.0, touted as "the first performance vehicle for Nike's latest platform breakthrough, adaptive lacing."
"When you step in, your heel will hit a sensor and the system will automatically tighten," explains Tiffany Beers, Senior Innovator, NIKE, Inc., and the project's technical lead. "Then there are two buttons on the side to tighten and loosen. You can adjust it until it's perfect."
Here is more from Nike's website:
For Hatfield, the innovation solves another enduring athlete-equipment quandary: the ability to make swift micro-adjustments. Undue pressure caused by tight tying and slippage resulting from loose laces are now relics of the past. Precise, consistent, personalized lockdown can now be manually adjusted on the fly. "That's an important step, because feet undergo an incredible amount of stress during competition," he says.
Through 2013, Hatfield and Beers spearheaded a number of new systems, a pool of prototypes and several trials, arriving at an underfoot-lacing mechanism. In April 2015, Beers was tasked with making a self-lacing Nike Mag to celebrate the icon's true fictional release date of October 21. The final product quietly debuted Nike's new adaptive technology. Shortly after, the completion of the more technical, sport version they'd originally conceived, the Nike HyperAdapt 1.0, confirmed the strength of the apparatus. "It's a platform," Beers says, "something that helps envision a world in which product changes as the athlete changes."
The potential of adaptive lacing for the athlete is huge, Hatfield adds, as it would provide tailored-to-the-moment custom fit. "It is amazing to consider a shoe that senses what the body needs in real-time. That eliminates a multitude of distractions, including mental attrition, and thus truly benefits performance." He concludes, "Wouldn't it be great if a shoe, in the future, could sense when you needed to have it tighter or looser? Could it take you even tighter than you'd normally go if it senses you really need extra snugness in a quick maneuver? That's where we're headed. In the future, product will come alive."
The Nike HyperAdapt 1.0 will be available only to members of Nike+ beginning Holiday 2016 in three colors. To become a Nike+ member and sign up for notifications about the Nike HyperAdapt 1.0, go to Nike.com.