'Daredevil' Season 2 Featurette Teases The "Ultimate Battle" Between Daredevil And The Punisher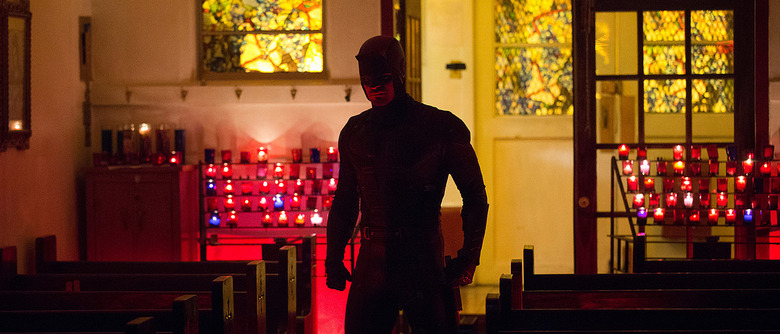 The first season of Daredevil had a damn good villain in Wilson Fisk – one of the best in the MCU, along with Loki and Kilgrave. So how does the show top that in season 2? Well, by bringing on not one but two classic figures to antagonize our poor beleaguered devil of Hell's Kitchen: a hardcore vigilante known as the Punisher, played by Jon Bernthal, and a dangerous former flame called Elektra, played by Elodie Yung.
The final trailer for Daredevil season 2 debuted earlier this week, but today Netflix served up another little taste of the trials and tribulations to come in the form of a new featurette. This one focuses on Daredevil and the Punisher, with Bernthal and Charlie Cox on hand to talk up their characters. Watch the Daredevil season 2 featurette after the jump. 
Among other things, Daredevil season 2 seems to take a good hard look at what it means to be a vigilante. Matt Murdock became one because he wanted to be a force for good — but the Punisher is also out to get bad guys, only his brand of justice is far more brutal. "Maybe we created him," Karen (Deborah Ann Woll) muses at one point. "Daredevil participated in vigilante justice. Maybe his actions opened the door for men like this."
As intimidating as the Punisher is, though, it'd be a mistake to treat him like a straightforward baddie. "He's not a villain, he's not a superhero," says Bernthal. "As dark as he is, inside there's a man who's suffered real loss." Of course, the real winner of their showdown is bound to be us, watching from our couches. "Matt Murdock has met his match," teases Cox. "Daredevil up against Frank Castle is the ultimate battle."
The entire second season of Daredevil hits Netflix March 18.
Just when Matt thinks he is bringing order back to the city, new forces are rising in Hell's Kitchen. Now the Man Without Fear must take on a new adversary in Frank Castle and face an old flame – Elektra Natchios.
Bigger problems emerge when Frank Castle, a man looking for vengeance, is reborn as The Punisher, a man who takes justice into his own hands in Matt's neighborhood. Meanwhile, Matt must balance his duty to his community as a lawyer and his dangerous life as the Devil of Hell's Kitchen, facing a life-altering choice that forces him to truly understand what it means to be a hero.