Olivia Wilde Was Turned Down For 'The Wolf Of Wall Street'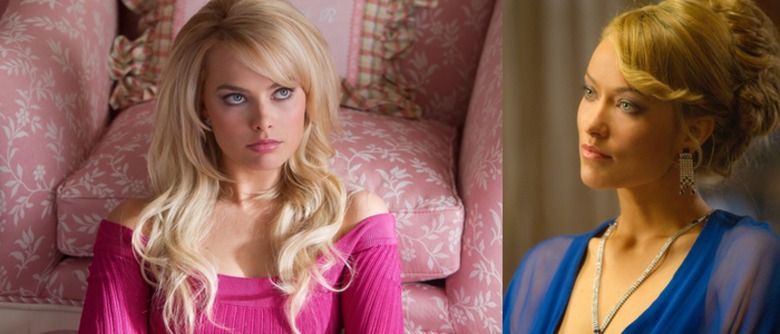 It's almost impossible to imagine anyone else but Margot Robbie in the role of Naomi Lapaglia in Martin Scorsese's The Wolf of Wall Street, but Olivia Wilde may have been an interesting alternate choice. However, the Tron: Legacy actress was apparently turned down for the part. Why? Because at 28, she was deemed "too old for the role." Learn the whole story, after the jump.
Olivia Wilde relayed the story while appearing on Tuesday's edition of The Howard Stern Show. The now 32-year-old actress claims that she was deemed "too old" to be cast in the Martin Scorsese-directed film The Wolf of Wall Street when she auditioned back in 2012 at age 28. Initially, Wilde's agent told her she was too "sophisticated" for the role of Leonardo DiCaprio's second wife, even though DiCaprio is nine years older than Wilde.
Here is Wilde telling the story:
"I had heard for a part that I was too sophisticated," Wilde recalled. "I was like, oh, that sounds nice ... and then I found out later that they actually said 'old.' "Sophisticated" might be a code word in Hollywood — for "old."
Margot Robbie was later cast in the role. That actress was around 22 years old, six years younger than Wilde, and 16 years younger than DiCaprio. To make things even more ridiculous, the real-life couple at the center of the Wolf of Wall Street story were born within months of each other.
Wilde joked on the radio show that she wanted to make a "translation sheet" for actors to be able to translate the code words that agents use to spare their clients' feelings.
The happy ending to the story is that Wilde didn't have to audition for Scorsese's HBO series Vinyl, because he had already seen her audition for Wolf of Wall Street. Wilde later tweeted clarifying that the point of the anecdote was that she later got her "dream job on Vinyl."
My point about not being cast in "Wolf o W-Street" was that we have to trust the process because I ended up with my dream job on "Vinyl". 👍

— olivia wilde (@oliviawilde) March 16, 2016
And my interview went on to say that Margot Robbie crushed that role like a sexy ninja and I LOVED her in it.💥⚡️💥

— olivia wilde (@oliviawilde) March 16, 2016