'Ben-Hur' Trailer: Jack Huston Is Our Generation's Charlton Heston, Apparently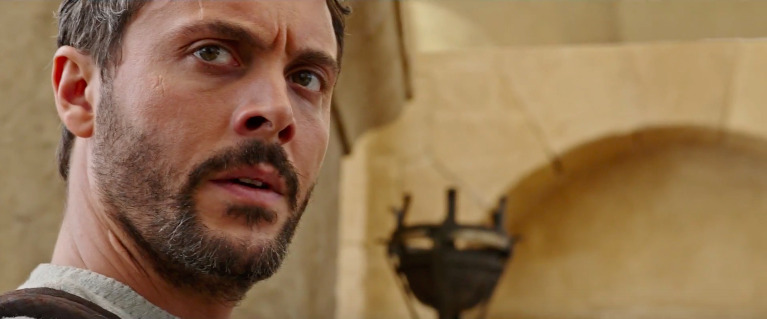 Jack Huston kicked off 2016 as one of the better parts of the fairly terrible Pride and Prejudice and Zombies, stealing scene after scene from ostensible male lead Sam Riley. Now his next big release of 2016 puts him front and center, in the iconic role of Judah Ben-Hur.
The main beats of Timur Bekmambetov's Ben-Hur should seem familiar to anyone who's seen the earlier film. Huston's Ben-Hur is a Jewish prince who's betrayed by his adopted brother Messala (Toby Kebbell) and forced into slavery. He survives and returns to seek his revenge in the arena. Morgan Freeman plays the man who teaches Ben-Hur all about chariot racing. Nazanin Boniadi, Pilou Asbaek, and Rodrigo Santoro also star. 
Before you unleash your indignation at the idea of a Ben-Hur remake, keep in mind that the classic version you're thinking of — the 1959 one starring Charlton Heston – was itself a remake, of a 1925 silent film. And if it helps, this Ben-Hur isn't technically a remake anyway, but a re-adaptation of Lew Wallace's 1880 novel. It may seem like splitting hairs, but it's an important legal distinction: Wallace's book is in the public domain while the 1959 film is not.
As for why the world needs another Ben-Hur, Huston suggested in a recent chat with
that the lessons of Ben-Hur could apply to the modern world. "There's something really beautiful about it, especially in the current climate of the world, about different religions and people being at odds against each other," he said. "How do we find our way out of this, how do we forgive, how do we forget, how do we move on, how should we treat our fellow human?"
Ben-Hur arrives August 12.
BEN-HUR is the epic story of Judah Ben-Hur (Jack Huston), a prince falsely accused of treason by his adopted brother Messala (Toby Kebbell), an officer in the Roman army. Stripped of his title, separated from his family and the woman he loves (Nazanin Boniadi), Judah is forced into slavery. After years at sea, Judah returns to his homeland to seek revenge, but finds redemption. Based on Lew Wallace's timeless novel, Ben-Hur: A Tale of the Christ. Also starring Morgan Freeman and Rodrigo Santoro.