'Better Call Saul' Will Be Back For Season 3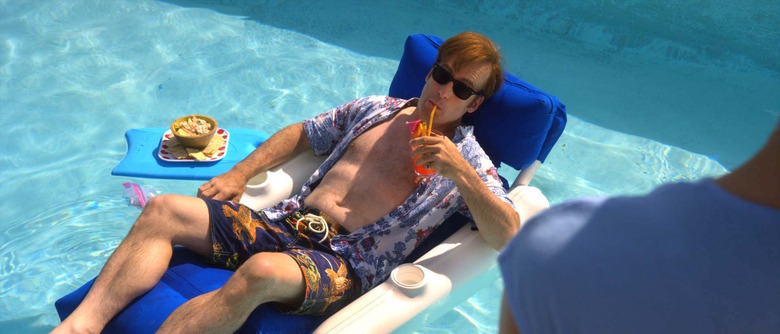 Jimmy McGill's transformation into Saul Goodman has been a wonder to watch: precise, deliberate, gorgeously shot, impressively acted, and more than a little heartbreaking. And the evolution is going to continue for at least another year. AMC has just renewed Better Call Saul for a third season, just as the series hits the halfway point of its second. 
AMC and Sony Pictures Television announced today that Better Call Saul has been renewed for a ten-episode third season. Vince Gilligan and Peter Gould will return as showrunners, and will also continue to serves as executive producers alongside Breaking Bad vets Mark Johnson, Melissa Bernstein, and Thomas Schnauz. Said AMC's Charles Collier in a statement:
What Vince, Peter, Bob and the entire team have accomplished with 'Better Call Saul' is truly rare and remarkable. They have taken one of the most iconic, immersive and fan-obsessive (in the best possible way) shows in television history and created a prequel that stands on its own. Watching Jimmy McGill's thoughtful, melodic and morally flexible transformation into Saul Goodman is entertaining and delighting millions of fans, whether their starting point was 'Breaking Bad' or not. This series has its own feel, pace and sensibility and we can't wait to see what this incredibly talented group comes up with next in season three.
The renewal shouldn't come as a big surprise. AMC renewed Better Call Saul for a second season before the first season had even debuted, demonstrating a lot of confidence in its Breaking Bad spinoff/prequel. Since its debut, Better Call Saul has performed solidly in the ratings and even better with critics. The first season of Better Call Saul was nominated for seven Emmys, SAG, and a Golden Globe.
Better Call Saul's initial appeal was obvious — it was a way for fans, and the network, to continue with the Breaking Bad franchise through the lens of one of the show's liveliest supporting characters. But it's pretty quickly established itself as much, much more than just a Breaking Bad copy. Jimmy's emerged as a tragic antihero in his own right, and one that's very different from Walter White, even if they end up mired in the muck together in Breaking Bad.
And thankfully, the show's writers and producers seem to put a lot of faith in Bob Odenkirk's ability to shoulder his own series as Jimmy. Callbacks and cameos to Breaking Bad are used sparingly and judiciously, and it borrows a lot of the visual language and vibe of the earlier series while adding some flair of its own. Put simply, the journey from Jimmy McGill to Saul Goodman has proved a riveting (if sometimes devastating) one, and we can't wait to embark on the next step of it.