'Han Solo' Shortlist: Alden Ehrenreich Emerges As Frontrunner [UPDATED]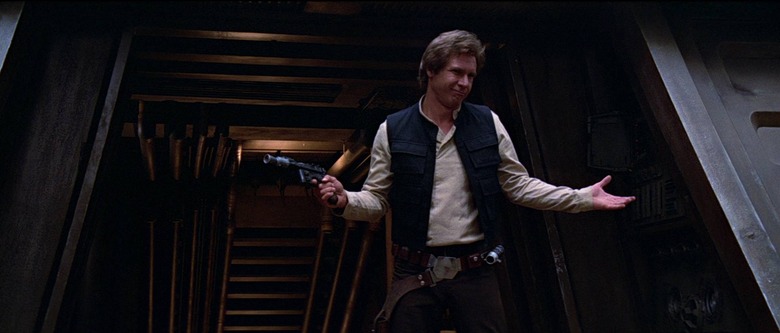 UPDATED: Deadline is reporting Hail, Caesar! standout Alden Ehrenreich has emerged as the frontrunner for the Han Solo movie. Our original story from March 15, 2016 follows.
As the 2018 release date for Phil Lord and Chris Miller's Han Solo spinoff inches ever closer, the list of potential leads has been getting smaller and smaller. The directors and studio Disney reportedly looked at thousands of young actors for the role, and as of earlier this year had started to narrow down the possibilities. Now they're in the home stretch, as a final shortlist has emerged. Among those still in the running are Jack Reynor (Transformers: Age of Extinction), Taron Egerton (Kingsman: The Secret Service), and Alden Ehrenreich (Hail, Caesar!). 
The Hollywood Reporter broke the news that Reynor, Egerton, and Ehrenreich all tested for the Han Solo role in London last weekend. Variety's Justin Kroll adds that Blake Jenner (Everybody Wants Some!!) and Jack O'Connell (Unbroken) are in the mix as well. Not surprisingly, the Han Solo casting process is shrouded in secrecy, so it's possible there are additional names we don't know about yet.
The men on the Han Solo shortlist have already beat out some stiff competition to get there. Last we heard, about a dozen actors had met with the directors, including Miles Teller, Ansel Elgort, Emory Cohen, and Logan Lerman in addition to the names above. And those were the ones who emerged from an initial field of about 2,500 actors who auditioned or sent in tapes to become the next Han Solo, with ages and types ranging from The Walking Dead's Chandler Riggs to Mr. Robot's Rami Malek.
Reynor is an Irish actor best known in the U.S., unfortunately, for explaining Texas' statutory rape laws in Transformers: Age of Extinction. But his work in his native country is far more encouraging — he was excellent in Lenny Abrahamson's pre-Room drama What Richard Did, and won over the Sundance crowd this year in Sing Street. Egerton already has one franchise under his belt – Kingsman, which has a sequel due out next year — and could have another if 2017's Robin Hood: Origins takes off.
Ehrenreich emerged as the biggest scene-stealer in the Coen brothers' star-studded Hail, Caesar!, and his other credits include Stoker, Blue Jasmine, and Beautiful Creatures. Jenner is a Glee vet currently wowing SXSW in Linklater's Everybody Wants Some!!. And while O'Connell couldn't save the staid Unbroken despite his best efforts, he's earned raves for his work in '71 and Starred Up.
Lord and Miller are directing the Han Solo spinoff for release on May 25, 2018. Rumor has it whoever clinches the young Han Solo role could also cameo in Rogue One: A Star Wars Story, due out later this year.
The news about the Han Solo shortlist arrives just as speculation heats up about the new Indiana Jones movie, officially confirmed for release in 2019. I've seen a few people joke that the same actor should score both films:
That seems unlikely to happen (and for that matter, we don't know for sure yet that there is going to be a younger new Indy, as it's possible he'll pass the torch to another, non-Indy character), but it should be interesting to watch in the coming weeks and months as Disney grapples with the question of who best captures the essence of Harrison Ford's younger self.