'Batman V Superman' Advance Ticket Sales Outpacing 'Deadpool', 'The Avengers'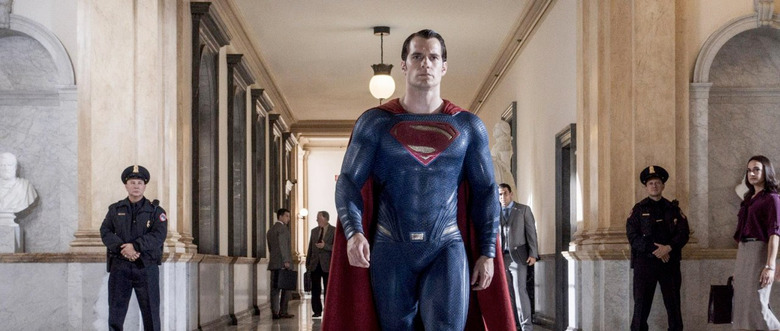 Warner Bros. has a lot riding on Batman v Superman: Dawn of Justice. Not only did it cost a ton to make and market, it needs to do well enough to set up the next five years of DC films, including two Justice League movies and a solo Batman outing. So it's gotta come as a huge relief to hear that the film is doing well in advance ticket sales – really well, actually, beating out pre-sales for other recent hits like Deadpool, Furious 7, and The Avengers. 
Deadline's sources report Batman v Superman has racked up $20-25 million in advance ticket sales already — not far behind what The Dark Knight Rises did in 2012, before going on to a $160 million opening weekend. Analysts estimate Batman v Superman could go up to $140 million in its first weekend, with a total global take of around $300-$340 million. If those numbers pan out, Batman v Superman will be the biggest Easter debut of all time.
Perhaps not surprisingly, Batman v Superman is appealing most to young men. Said Will Palmer, co-founder of the movie marketing firm Movio:
As expected, Batman v Superman: Dawn of Justice is anticipated by the fan male audience. The audience profile is 78% male, massively over indexing between age 14-49. This is your avid opening weekend audience with some 70% attending films during opening week, spending 3.2 times more than the typical US moviegoer.
Of course, it's worth pointing out here that predicting a film's box office take is a tricky task. It was only a few weeks ago that Deadpool vaulted over even the most optimistic projections to become one of the best-performing superhero movies of all time — leaving analysts and pundits scrambling to explain how a modestly budgeted R-rated feature about a second-string (by non-comics-geek standards) superhero could've outperformed much splashier films carefully engineered to appeal to the widest swath of moviegoers possible.
Batman v Superman: Dawn of Justice features what seems like an irresistible hook — "son of Krypton versus bat of Gotham!" – but the marketing materials so far have been met with mixed responses. It doesn't help, either, that it looks to be in a similar vein as the polarizing Man of Steel. And if Batman v Superman tanks, the films that follow will face an uphill climb. So these Batman v Superman numbers aren't just good for Batman and Superman fans — they're a good sign if you're excited to see Wonder Woman, or The Flash, or Green Lantern, or Justice League, or any of the other films Warner Bros.' DC universe is currently cooking up.Batman v Superman: Dawn of Justice opens March 25.