'Daredevil' Season 2 Final Trailer: The Punisher And Elektra Bring The Action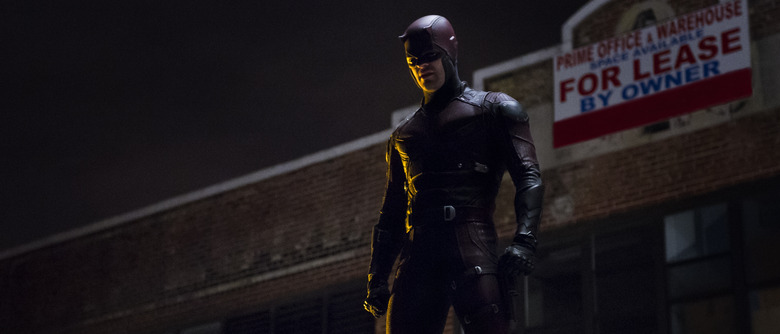 We're just days away from the second season of Daredevil, and by now you probably already know whether you're in or you're out. If you tore through season one and can't wait to return to Hell's Kitchen, you've surely cleared your weekend schedule so you can binge without restriction; if you didn't care for season one, you probably haven't bothered keeping up with all the updates on season two anyway.
But just in case a few of you need a nudge into the "in" column, Netflix and Marvel are getting in one last Daredevil trailer just under the wire. And yes, it's got plenty of Jon Bernthal as the new Punisher and Elodie Yung as the new Elektra. Stick (Scott Glenn), Claire (Deborah Ann Woll), and Foggy (Elden Henson) all make appearances as well. Oh, and Matt Murdock (Charlie Cox) is there, too. Watch the Daredevil season 2 final trailer after the jump. 
One of the early highlights in the first season of Daredevil was that incredible hallway fight sequence, and the Daredevil team has suggested they'll somehow top it this season. "In terms of this season, there are a number of really good fights," teased Cox at the TCA press tour in January. "There is one in particular that I'm really excited about because it's kind of like an homage to that scene, but it's almost like that scene on crack."
Whether they can actually fulfill such bold promises remains to be seen, but the Daredevil season 2 final trailer does look pretty damn good. It opens with Daredevil nailing a superhero landing ("totally impractical, but they all do it," as Deadpool snarked earlier this year) before launching us into an action-packed montage of sword fights, sai fights, gun fights, good old-fashioned fist fights, explosions, motorcycle races, and even a pretty racy sex scene.
All 13 episodes of Daredevil season 2 hit Netflix on Friday, March 18 at 12:01 PST.
Just when Matt thinks he is bringing order back to the city, new forces are rising in Hell's Kitchen. Now the Man Without Fear must take on a new adversary in Frank Castle and face an old flame – Elektra Natchios.
Bigger problems emerge when Frank Castle, a man looking for vengeance, is reborn as The Punisher, a man who takes justice into his own hands in Matt's neighborhood. Meanwhile, Matt must balance his duty to his community as a lawyer and his dangerous life as the Devil of Hell's Kitchen, facing a life-altering choice that forces him to truly understand what it means to be a hero.