'Batman: The Killing Joke' First Look: Mark Hamill And Kevin Conroy Are Back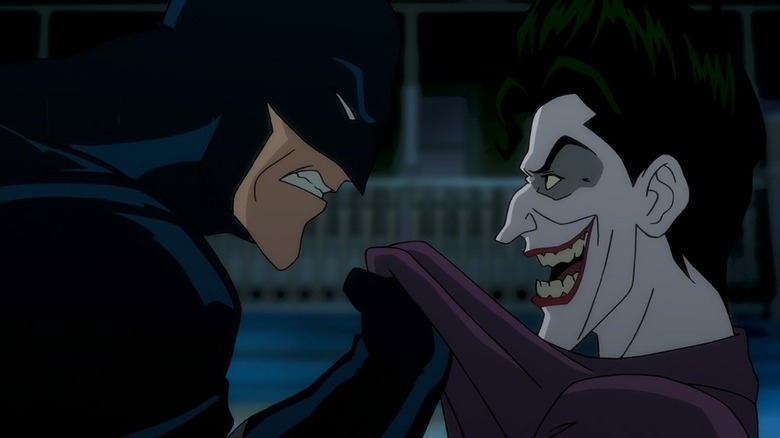 It goes without saying that Mark Hamill's most iconic rule is Luke Skywalker. But his second most iconic role is the Joker in the 1990s' Batman: The Animated Series and beyond. And just as he recently put on Luke's robes again for Star Wars: The Force Awakens, he's ready to bust out that Joker laugh one more time.
Following months of rumors, Hamill has officially announced he'll voice the Joker alongside Kevin Conroy as Batman in Warner Bros. Animation's Batman: The Killing Joke, an adaptation of Alan Moore and Brian Bolland's 1988 graphic novel. Making the reveal even sweeter, Hamill has also shared the very first image from the upcoming animated movie. 
Warner Bros. and DC Entertainment's Batman: The Killing Joke direct-to-video feature was announced at Comic-Con last year, and speculation that Hamill could return as the Joker began about five seconds later. Sure enough, just a couple of weeks afterward, word spread the Hamill had not only been cast in the film, but had already finished recording his part. It's only now, however, that Hamill is finally coming clean about his involvement. He spilled the beans in a series of tweets quoting lines from the book.
THE "All it takes is one bad day to reduce the sanest man alive to lunacy...Just one bad day." pic.twitter.com/bqzBQPIhOw

— Mark Hamill (@MarkHamill) March 14, 2016
KILLING "Remember there's always madness... Madness is the emergency exit" pic.twitter.com/hEvNRaxL6e

— Mark Hamill (@MarkHamill) March 14, 2016
JOKE "If I have to have a past, then I prefer it to be multiple choice" pic.twitter.com/o1ZybkvTwa

— Mark Hamill (@MarkHamill) March 14, 2016
Moore and Bolland's Batman: The Killing Joke sees the Joker kidnapping Commissioner Gordon and shooting and paralyzing his daughter Barbara Gordon. Woven in throughout is a potential origin story for the Joker, in which he is a failed comedian driven mad by "one bad day" during which he saw his pregnant wife killed and himself permanently disfigured after falling into a vat of chemicals. The story is certainly one of the most acclaimed Batman stories ever published (and arguably the defining Joker story) but, especially in recent years, it's also drawn its share of controversy for its treatment of female characters like Barbara Gordon.
In a statement, Hamill talked up his new role. "The chance to work once again with Kevin Conroy, my favorite Batman, in what some consider the definitive origin of this iconic villain is a dream come true for me" he said. "I am beyond thrilled to return as The Joker in 'The Killing Joke!" Added Conroy: "I've had the great privilege of voicing Batman for more than two decades, and some of my favorite moments in the recording booth have been alongside Mark Hamill. Mark always enables me to be a better actor. I'm thrilled that we're both back to bring these characters to life in one of the most heralded Batman/Joker stories of all time."
Joining Conroy and Hamill, who worked together on Batman: The Animated Series, will be Ray Wise as Commissioner Gordon and Tara Strong as Barbara Gordon a.k.a. Batgirl. Wise is new to his role, but Strong will be a familiar presence to Bat-fans. She voiced Barbara in several incarnations of the franchise beginning with The New Batman Adventures in the 1990s, and more recently voiced Harley Quinn in the Batman: Arkham games.